Australian captain Ricky Ponting on Tuesday said Sachin Tendulkar would not have walked back to the pavillion had he known that the umpire had ruled him not out in India's World Cup league match against the West Indies on Sunday.
Ponting, who had waited for the umpire's decision even though he knew he had nicked a delivery during Australia's World Cup match against Pakistan, suggested that Tendulkar did not know the umpire had given him not out off West Indies fast bowler Ravi Rampaul's delivery in Chennai.
"I think Sachin did not see the umpire's decision who had ruled him not out. Had he seen it, he would not have walked," Ponting said on a programme on Headlines Today.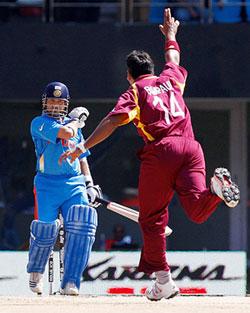 "This is all part of the game. I wanted to wait for the umpire's decision," he added.
- Tendulkar, Ponting re-ignite walking debate at WC
On the demand by his critics that he should quit after World Cup as he has been struggling for form, Ponting said, "All my on and off-field actions are being overplayed. I have captained Australia quite well in this World Cup. I'm being criticized, because I am not among the runs. I can't do anything about what people write about me."
"I am though disappointed with my batting," he said.
Speaking about the team strategy, in the backdrop of criticism that Australia have been defensive against spinners, Ponting said, "I have told our batsmen to play with as much freedom as you want."
Asked if the tag of invincibles carried by his team created pressure, he said, "There is nothing like invincibles. Every game changes in matters of balls."
On the loss to Pakistan, Ponting said, "What happened in previous games won't affect us. We have learnt lessons from the game against Pakistan."