Embattled Australian cricket captain Ricky Ponting has three days to decide his future as selectors get set to announce the ODI team for the upcoming tour of Bangladesh.
Cricket Australia (CA) expect to name their touring squad on Wednesday for a brief tour of Bangladesh, a CA spokesmen was quoted as saying by the media in Melbourne.
The 36-year-old Ponting is under intense pressure to give up captaincy in the wake of Australia's quarter-final exit from the World Cup after a five-wicket loss to India.
- Ponting files: 'No replacements for Ricky yet'
- Ponting still best man to lead Aus
Ponting has also admitted to giving a thought to his future but insisted that he still has a lot to offer to Australian cricket.
"I'll have the opportunity over the next couple of days to reflect on where things are headed for me and certainly what direction I feel things are heading for the betterment of Australian cricket," the Test and one-day captain has stated after returning home.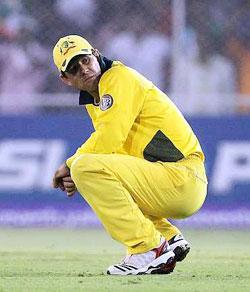 "I have to really decide what I think is right for me and the team going forward."
Australia will play three one-dayers against Bangladesh on April 9, April 11 and April 13.
Ponting said he would not hesitate to step down if Cricket Australia asks him to do so.
"I see myself as a leader around the group, simple as that, whether I'm captain or not I still think I've got a lot to offer as far as leadership qualities go," he said.