New Zealand all-rounder Jacob Oram has got the go-ahead to travel to the sub-continent for the forthcoming World Cup after sustaining an injury before the final One-Dayer against Pakistan.
Oram was expected to play in the final One-Dayer at Eden Park but suffered an ankle injury while bowling before the match. But the all-rounder was today given the all-clear following an MRI scan, x-ray and an independent medical assessment.
"I developed ankle pain and although it didn't feel serious I wasn't able to bowl without discomfort," Oram said in a NZC statement.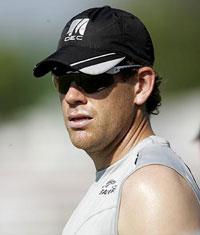 "The medical staff got the necessary assessment done and I was sweating on the results but pleased when the doctor let me know that I was fit to travel with the team to the World Cup.
"I have inflammation around the joint so not a significant tear or break."
Injury has been Oram's bane over the past few years.
He was sent home from Sri Lanka last August with a recurrence of a knee tendon injury. Following surgery he returned to the side for the one-day series against Pakistan.
"I've worked hard over the last six months to get fully fit so it is extremely disappointing to pick up another niggle.
"However, I am confident it isn't too serious and am determined to do everything I can to be fully fit for the first match."