Going into the quarter-final match against the erratic England, Sri Lanka have their own set of problems in both the batting and bowling departments.
What they wouldn't want over and above the existing issues is any doubts about Mutthaiah Muralitharan's availability.
Because if Sri Lanka have been able to paper over their cracks in the early stages, it is mostly because Murali has shored up the bowling attack, especially in the crucial powerplay overs.
"He didn't bowl against the batters in the nets," said Sri Lankan coach Trevor Bayliss. "But he did bowl for some 20 minutes at the back. We are very confident that he will play and I think he's pretty confident he will play. He's played through a few niggles in the past and I'm sure he'll be fine come game day," he added.
Emphasising Murali's importance in Sri Lanka's scheme of things, Bayliss added that the youngsters in the team are also putting their hands up and are willing to be counted.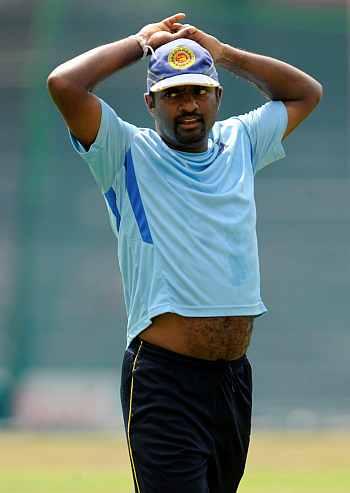 "He's (Murali) certainly an important part of the team," Bayliss said.
"I wasn't around 10-15 years ago when they had some very good players. What we've been trying to achieve is to get some of our young players to live up to that world class standard. Over the last few years we've had guys like Mendis, Mathews and Thisara Perera. They've done extremely well and have played a big part in the success of our team," he added.
Conceding that the team's lower order batting was a concern, Bayliss said they are looking to improve in the knockout stage.
"Yes, they haven't scored as many runs as we would have liked," he said.
 "But we have actually scored enough runs or more than enough runs to win games. Our top order is scoring runs, which doesn't leave a big opportunity for the guys down the order to score. We would all like to play a perfect game and if those guys make 50 not out in the last four or five overs it will be perfect. But the perfect game doesn't often happen. We have had a chat about it and we are looking to improve it," he added.
On the positives, he said the team was dominating most periods in the matches they have played so far.
"In our game against New Zealand, we batted, bowled and fielded quite well apart from one over when we dropped a couple of catches," he said.
"But I think right through the World Cup we've actually played some pretty good cricket apart from maybe 20 overs in our batting against Pakistan," he added.