ICC CEO Haroon Lorgat on Monday played down the toss controversy during the India-Sri Lanka World Cup final, when the coin had to flipped twice by India captain Mahendra Singh Dhoni, following a confusion.
"I'm not sure whether there was a huge controversy around that. I know there was a suggestion that the match referee (Jeff Crowe) did not hear the call (made by Lanka skipper Kumar Sangakkara) and they agreed to re-toss. That's what normally happens," he said at a press conference in Mumbai.
Sangakkara won the toss and elected to bat to post 274/6 which was chased down successfully by India to win the coveted title after 28 years.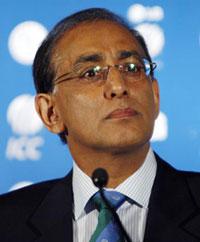 Lorgat defended the decision to appoint Crowe, who officiated in the previous final between Australia and Lanka in Barbados that finished in darkness in a farcical manner, to do the job at the all important final.
- Video evidence: Did Sanga cheat?
"We review all the officials, all the component parts of the events, produce a full report whatever learnings were, we take note of it in the next event," he said.