New Zealand batsmen flunked their first test against raw pace dished out by champions Australia a week ago but Friday's trial against nagging spin will probably signal the tenure of their World Cup campaign.
The build-up has been tough for New Zealand, who face Zimbabwe in Group A on Friday, with the team being whitewashed by Bangladesh and India before they lost a home series against Pakistan.
The Kiwis have seen it all in the tournament so far with a thumping win against lowly Kenya and the humbling at the hands of champions Australia, which came in the backdrop of the devastating earthquake in Christchurch.
While New Zealand's pacemen made sure their batsmen had almost nothing to chase against Kenya, some fiery fast bowling from Brett Lee, Mitchell Johnson and Shaun Tait left the Kiwis reeling on 73-6.
"It's probably been the part of our game that we haven't been happy with and we have to continue to look to rectify," captain Daniel Vettori, who has often donned the role of saviour with the bat lower down the order, summed up without mincing any words.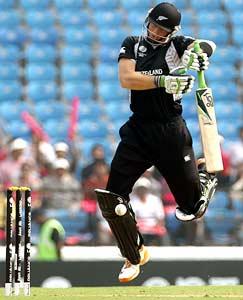 While the team management had tried to strengthen the batting order against Australia by drafting in Jamie How for all-rounder Jacob Oram, it failed to work.
"We wanted to strengthen our batting. We knew Australia will come in at us with pace and we wanted somebody who can play pace well during the change of ball at the 34-over mark," Vettori explained.
"Jamie can play pace very well but that gamble didn't work for us."
On Friday, New Zealand can rest assure that there will be hardly any pace to deal with.
The challenge will be a little different, though probably as difficult, against Zimbabwe's army of miserly tweakers who had even managed to keep the mighty Australians under check initially.
The problem for Vettori is that no critic will ever doubt the potential of a batting order which boasts of Brendon McCullum, Martin Guptill, Jesse Ryder and Ross Taylor as the top four.
But, of late, on most occasions the batting has crumbled at once and it's absolutely crucial for New Zealand's campaign that at least two out of the four spend some quality time at the crease.
"We have got some very good batsmen in the top five but we just have to find a way to stand up and be counted," Vettori rued.
"It's the same with the ball as well. We have got a pretty good, balanced side.
"But it doesn't matter how you have performed, we have to get that out of these boys as quickly as possible and especially in the big matches."
Photograph: Getty Images