England batsman Kevin Pietersen has said that he would use unorthodox shots, particularly his 'Switch Hit', to challenge traditional field-setting during the World Cup, which gets underway on Saturday.
Pietersen pioneered the 'Switch Hit' which requires him to jump, swivel and switch stance to transform into a left-hander to play the shot.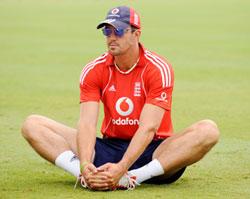 "In the current highly competitive scenario, it's really important to surprise the opposition with unexpected actions and to change the face of the game by pushing the boundaries," Stuff.co.nz quoted Pietersen, as saying.
"Bringing something new when we play keeps the fun alive, not only for us, but for the fans as well.
"I spend hours and hours in the nets, practising the 'Switch Hit', trying to perfect it. I have perfected it a couple of times in the game situations. But yes, it's something new, something fresh, it's a game-changing shot," he added.