He has been a quiet backroom man monitoring things meticulously and no wonder that's the precise reason why every Indian player wants Gary Kirsten to remain the coach of the national team.
But Kirsten who now only has one more match left to complete his tenure as India coach termed the experience as a "great one".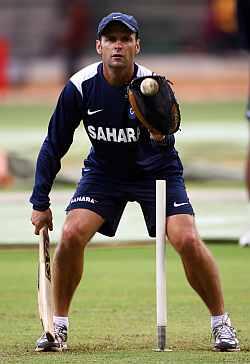 "The next match will be my last as India coach. It's been a great experience. It was a privilege to be with this team. Hopefully, we will play well against a great team (SRi Lanka) in Mumbai," Kirsten said in one of his last post-match interviews.
Asked about Team India's batting, the former South African opener admitted that they were lucky due to the dropped chances. In fact Sachin Tendulkar got five "lives" en route his 85.
"Indeed, we were lucky that so many catches were dropped. But Suresh played really well in the end."
However the coach has special words of praise for Ashish Nehra who was inducted after being dropped for the last two matches.
"Munaf and Ashish really bowled well. Especially, Ashish as it is not really easy to comeback into the team in a pressure match and deliver."
Munaf who had a terrific game said that the initial plan was to get a 2-3 quick wickets in the first 10 overs.
"The ball was stopping and so we had to rely more on cutters," said the man from Ikhar.