India's key opening batsman Sachin Tendulkar has undergone an MRI scan on his left knee but he should be fit for their next World Cup game, the team's manager said on Monday.
Tendulkar, the biggest scorer in the history of the game, stayed behind in Mumbai for the scan on Sunday when the rest of the squad flew to Bangalore for their game with England on Feb 27.
"It's an old injury. It was just a niggle. It's nothing to worry about. The (MRI) report is all clear," Ranjib Biswal said.
India won their first match in Dhaka on Saturday, beating Bangladesh by 87 runs. Tendulkar was run out for 28.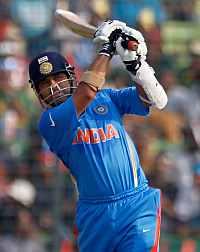 Tendulkar became the most capped one-day player in cricket in Saturday's win with his 445th appearance but a mix-up with match-winner Virender Sehwag lost him the chance to join the run feast on a placid track against a weak attack.
India eventually made 370 for four.
The 37-year-old is the leading scoring One-day and Test batsman and ranked by most experts among the top players of any era.