Asserting that the current Australian team was not as strong as the one he had encountered in the 2003 World Cup final, former skipper Anil Kumble on Tuesday said that India started as favourites for Thursday's quarter-final match against the defending champions.
"The two teams (2003 and 2011) are totally different.  It is a good opportunity to beat Australia on current form. I think India should beat Australia. Australia is a tough team. But if you have to win the World Cup you have to beat tough teams," Kumble said.
Talking of India's recent poor performance in the batting Powerplay, the former leg-spinner said the team will have to play well throughout the 100 overs to win a match and not just in the five Powerplay overs.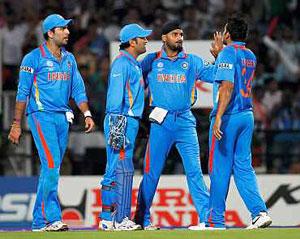 Kumble said it was an individual's decision on whether to walk or not if he knows he is out and should not be held wrong if he chooses not to.
Former skipper Kapil Dev said that the team should believe that if Pakistan could beat Australia, India too could beat them.
"Australia is a tough side. They have lost only once in 34 matches before losing to Pakistan. What I'll say is if Australia can lose to Pakistan, they can lose to India too. We should be positive," Kapil said.