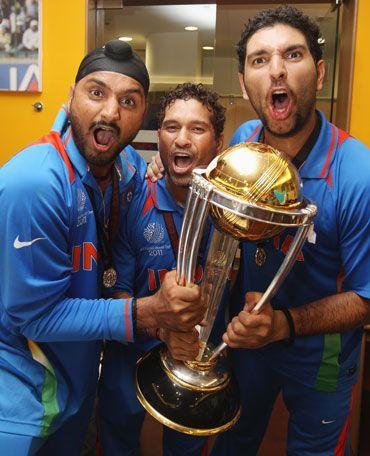 The International Cricket Council on Monday rejected reports that the World Cup with the Indian team is a replica and maintained that it is the original trophy after controversy broke out over news that that it was a fake that was presented to the team on Saturday.

Media reports on Monday said that the Cup given to Mahendra Singh Dhoni and his team was a fake and that the original was lying with the customs in Mumbai over non-payment of duties.

Several former cricketers expressed dismay over the alleged goofup by the ICC and the Board of Control for Cricket in India.

Following these reports, the ICC came out with a statement this morning saying that the trophy presented to the Indian cricket team is original.

"Contrary to some erroneous and mischievous media reports, the ICC can confirm that the trophy presented to India at Wankhede Stadium on Saturday was the original ICC Cricket World Cup 2011 trophy and the one that was always intended to be presented to the winner of the event," the ICC statement read.

"There is no question that this was a replica. The trophy presented to India indeed carries the specific event logo of ICC Cricket World Cup 2011 and has always been the cup that the 14 teams were playing for," it added.

The ICC said the Cup in the customs' custody is the "perpetual trophy" which is used for promotional purposes.

"The trophy seized by Mumbai customs is the promotional, perpetual trophy which remains in the keeping of ICC at its headquarters in Dubai. It carries the generic ICC corporate logo rather than the logo specific to the 2011 event. That trophy will be reclaimed today and will travel back to Dubai with ICC staff as was always intended," the governing body said.

Customs sources also admitted that they did not know whether the trophy with them is the original or not.

"We don't know whether it is the original Cup or a replica. But we will release it after payment of 35 per cent customs duty," sources told PTI.

The Cup has been in the forefront of the celebrations by the entire Indian nation with players even posing with it along with President Pratibha Patil at the Raj Bhavan on Sunday.

Dhoni has been photographed and caught on television cameras carrying the replica to the iconic Gateway of India opposite the team hotel on Sunday.

Man of the Tournament, Yuvraj Singh, has been kissing the replica repeatedly in delight.