In what would embarrass the national selectors, Michael Hussey, who was ignored for Australia's World Cup defence on count of injury, has been cleared to play for Western Australia against Queensland in the Sheffield Shield clash, starting next week.
The domestic tie is scheduled for Thursday, two days before Australia's match against Sri Lanka in Colombo.
The selectors chose to not select Hussey in the World Cup sqaud, saying it would be too risky.
Hussey, called Mr Cricket, said he found his omission from the squad a bitter pill to swallow.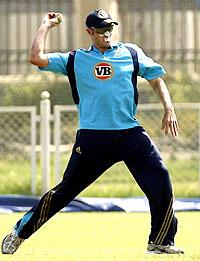 "I've been finding it hard to watch, I must admit. I'd love to be over there but the selectors have made the decision in the best interests of the team and they felt it was too much of a risk to take me and Ricky.
"I was always confident I would be right to have a crack in the second game against New Zealand and I definitely would have been right for Sri Lanka. This is pretty much what I expected," Hussey said.
"We've got another Shield game starting against Queensland on the 3rd of March. If there's no further setbacks I'll definitely be playing in that," he added.
Hussey has scored 4469 runs from 151 one-dayers at an impressive average of 51.97 and had even planned an early return to competitive cricket by playing for the Warriors against Tasmania four days ago but waited for the injury to heal completely.
"My hammy feels great. I'm running at about 95 per cent," he said.