A day after India vanquished Pakistan in an emotionally-charged World Cup semi-final, top yesteryear cricketers exuded confidence that the Mahendra Singh Dhoni and his men would end the 28-year-old jinx to lift the coveted trophy on April 2 in Mumbai .
Disciplined bowling and a fortune-tinged 85 by Sachin Tendulkar saw India beat Pakistan by 29 runs at the Punjab Cricket Association (PAC) stadium in Mohali last night to set-up a summit clash against co-hosts Sri Lanka at the Wankhede Stadium.
"The way they are playing, India will definitely beat Sri Lanka. I will make it 60:40 in India's favour," said Dilip Vengsarkar, former captain, ex-chief selector and member of the 1983 World Cup winning team led by Kapil Dev.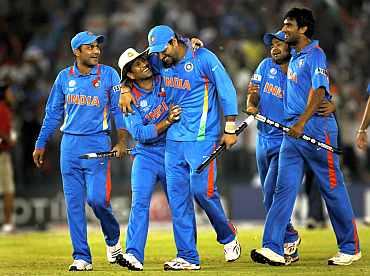 "I feel India have the edge over Sri Lanka. As you have seen the Indian side is improving match by match. The victory over Pakistan, I think, is more difficult than playing against Sri Lanka. We have crossed the stiffest hurdle, stiffer than (four-time winners) Australia," said former Test left-arm spinner Bapu Nadkarni.
India had defeated the Australian side led by Ricky Ponting by five wickets at Ahmedabad in the quarter-final on March 24.
"I have been saying it for some time now even before the team went to South Africa (last November) that we should win the World Cup," said former Test skipper Nari Contractor who, however, feels the batting has not performed to its potential.
"Our batting has still not clicked fully, not performed to its potential despite having got great starts. Yesterday too (against Pakistan) the start was good but the team could not capitalise on it. If the batting fulfills its potential, Sri Lanka would have no chance," he said.
Former middle-order Test batting mainstay and ex-chief selector Chandu Borde, who was on the selection panel that picked the 1983 Cup-winning squad, also gave India a slight edge over the Lankans because of home advantage.
"I suppose playing at home will be to our advantage over Sri Lanka, but you cannot take them lightly. They were one of the pre-tournament contenders for the Cup. These two teams have come through trial by fire, winning some and losing some matches to reach the final. Both the teams would be mentally and physically well prepared," he said.
About Wednesday's high-octane clash against the arch-foes, won by India by 29 runs after Shahid Afridi's men fell short of the 261-run target set by the home team, Vengsarkar said he expected a closer match while anticipating an Indian victory.
"I knew India will win but I thought it would be tighter finish. The team that handled pressure better won and India handled it really well while Pakistan struggled. They also dropped a lot of catches. We also bowled really well," he pointed out.