Faf du Plessis, who was forced to abandon a career with Lancashire after changes to English immigration laws, is relishing an opportunity to showcase his prowess at the World Cup.
Du Plessis, 26, was called up for the South Africa one-day squad at home against India this year and has also signed to play for the Chennai Super Kings in the Indian Premier League.
He scored 60 on his debut in Cape Town in January and has played in each of his team's matches at the World Cup, scoring 52 not out in the final group match against Bangladesh two days ago.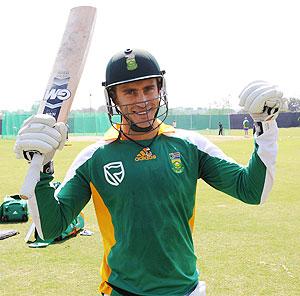 "It's nice for me. It's a different role for me. Because I enjoy facing spin bowling I relish the new role in the middle order," he told a news conference on Monday.
"Two years ago, playing for Lancashire, I didn't think it would be possible so soon. Obviously the dream for me to play for South Africa was always there.
"I knew I was just one good season away from playing for South Africa and luckily for me it was this season."
South Africa meet a New Zealand side in Dhaka on Friday who will be attempting to reach the World Cup semi-finals for the sixth time.
"They are a very dangerous side but, as you know, when it comes to the knockout stage everyone is dangerous," Du Plessis said.
"It's on the day who is the best. So we just want to make sure that we prepare the best for the game on Friday. We expect some tough opposition coming on the day."
Du Plessis said South Africa's Group B win over India had given an enormous boost to the side.
"It's always tough playing against India in India obviously with them there are a lot of supporters. So by beating them we are now very confident and like I said we are not looking too far ahead," he said.
"Topping the group is obviously a massive confidence for us but playing the bottom of the lot we don't look at it like that," he added referring to New Zealand finishing fourth in Group A. "We are just playing against the side coming on Friday and we must be best prepared for that."