- Scorecard | Images | Live update
A spectacular start in the opener against Kenya followed by a vapid performance in the second game against Australia.
That sums up New Zealand's effort in its first two games in this World Cup.
The 10-wicket win over Kenya wasn't much of a morale booster, but the seven-wicket defeat at the hands of Australia will certainly be demoralizing.
Captain Daniel Vettori put is bluntly, saying it is his team that has to take responsibility for the shoddy show in Nagpur.
"We made it difficult for ourselves in between the 15-17 over period," he explained, before going onto elaborate the point he wanted to make.
"I thought we had had a decent start (at 66 for two)," said Vettori, referring to the four-over phase when his side stumbled to 73 for six, losing four wickets for the addition of just seven runs.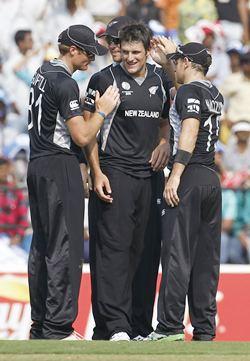 "A total of 260-270 would have been a competitive one on this wicket," he added.
Vettori went on to admit that the inclusion of an extra batsman (Jamie How) in place of Jacob Oram boomeranged on his team.
"We wanted to strengthen our batting," reasoned Vettori, adding, "We knew the Australian bowlers will come in hard at us.
"We wanted a back-up batsman during the period with the second new ball (around the 34th over mark). And since How is a good player of fast bowling we went ahead with him."
For the record, How scored just 22 runs despite facing a whopping 47 balls.  
New Zealand's captain also defended both his frontline bowlers -- Hamish Bennett and Tim Southee, the former in particular -- for being a tad expensive (and wayward) in their quest for wickets.
"They were trying to take wickets," said Vettori, adding, "They did take a few wickets but while conceding a few more runs in the process."
It was the 15th loss for New Zealand in its last 20 ODIs -- the Black Caps have only won three matches in the period -- and their captain was quick to point out that his team needs to put it behind them as quickly as possible.
"The loss is disappointing for sure," admitted Vettori.
"But, keeping in mind our future in the tournament, we have to put this result behind us," he added.
Asked if he was unhappy with the composition of his squad, as also the contributions of its senior players, he replied in the negative.
 "We have got a good, balanced squad," he explained, adding, "These players, both the bowlers and the batsmen, have got great skills.
"It is just that they need to stand up to the occasion; they need to lift themselves up when it matters."
Vettori reiterated that his team has to cope up with the pressure.
"Good teams are those that soak up the pressure and are able to repel that," he said, a tad philosophically.
"Unless we learn to do that, the other strong teams will apply the pressure that will get to us and affect our performance."
- Photograph: Reuters