On Thursday, the eve of their World Cup quarter-final against South Africa in Mirpur, Daniel Vettori arrived to address the media on a serious note.
There was a pensive look on his face, coupled with a thick moustache that gave the impression that he was probably a scholar or a method actor as opposed to being a cricketer.
- 'We let ourselves and South Africa down'
New Zealand's captain was aware that not many expected his side to get past a formidable South African squad.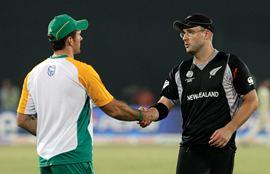 And there was relief writ large on his face when the presser got over sooner than expected.
- Catches win matches... Oram explains how
On Friday, minutes after New Zealand scored an upset 49-run win over their fancied opponents, Vettori was back, with two changes.
Firstly, there was a clean shaven look; secondly, there was a glow on his face, perhaps the sense of achievement.
"It is obviously a very happy dressing room, not only because we won a quarter-final but also because the performance we put on was very satisfying," he explained.
Vettori proceeded to give an explanation even before the question could be asked.
"I thought 250 would have been a satisfying total. But 221 was defendable," he said, adding, "It allowed us to attack.
 "And some great bowling, and some great fielding, particularly by Martin Guptill helped us achieve what we wanted to."
The captain lauded his team for fighting it out on the field despite being on the back foot for most of the game.
"There was a sense of belief that if we could get into their middle order, we had a chance," he said.
"For us it was always about getting past Kallis and De Villiers.
"We were desperate to get their middle order out and that was our game plan. Thereafter we knew they had a longish tail.
"So the whole talk before the game was to take wickets, get to their lower order and then have a shot."
Photograph: Getty Images