Taking his battle a step further, a miffed Jagmohan Dalmiya on Tuesday accused the International Cricket Council of double standards and claimed that the Wankhede Stadium, venue for the World Cup final, cannot get clearance by means of hosting a Twenty20 match.
Reacting to reports that ICC chief executive Haroon Lorgat was satisfied with Wankhede's progress after it hosted a T20 match recently, the Cricket Association of Bengal chief argued it's not a yardstick as per the Stadium Agreement of World Cup.
Having already accused ICC of conspiracy to take the India-England match away from the Eden Gardens, Dalmiya said, "It's in bad taste to criticise, but the fact remains that they are yet to host a Test, ODI or a first class match. You all know what a first class match is."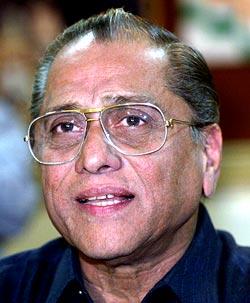 "It's a question of damage of prestige. What is this, we all want to know. Be man enough and come forward," Dalmiya said, challenging ICC's stand on Wankhede which will host the final on April 2.
"I challenge the ICC's stand. One cannot do it. I've all the records with me to substantiate it. Let them come forward and take my challenge. We want to know who are the (ICC) experts and from where have they come."
"People who live in glass houses, should not throw stones at others. That's the only thing that haunts me. It's a case of double standard."
Dalmiya also shot off a letter to BCCI secretary, N Srinvasan, on Monday.
"According to the ICC's Stadium Agreement, at least two Tests or ODIs or an entire season of first class cricket or matches at the highest level will be played minimum six months prior to the commencement of the event," he stated.
"Twenty20 matches at the local level were certainly not a yardstick and that too the matches were played only in February this year. Surprisingly, the ICC experts cleared the venue, going beyond their ambit."
Dalmiya also had a word of praise for the BCCI for taking up their case with the ICC.
"We had asked them (ICC) to give us an extension till February 7 and the BCCI did not sweep it under the carpet. They took it up and we are grateful at them."
The Wankhede hosted the MCA T20 championship semi-final between Mumbai Police Gymkhana and Fort Vijay Cricket Club on February 27, in what was its first build-up match ahead of the World Cup.
ICC chief executive Lorgat had earlier said: "I had said earlier there were Twenty20 matches played there and the stadium has been inspected. We have experts whom I can assure you will not pass the stadium unless they are satisfied with its preparedness."