Batting maestro Sachin Tendulkar said that Indian team's World Cup victory has had a huge impact on his son, Arjun, but he would not force him to become a cricketer.
Talking to reporters at Wankhede Stadium -- the venue of the historic triumph -- Tendulkar said, "I was inspired by Indian team's victory in 1983 World Cup. The 2011 victory has made a huge impact on my son Arjun. I will not pressurise him to become a cricketer. He can choose what he wants to do."
Talking about his mother's reaction when he returned home after the 2011 World Cup victory, Tendulkar said he could see joy in her eyes.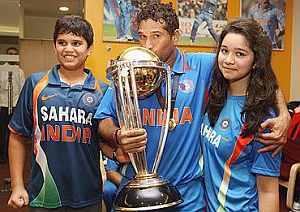 "When I returned home, my mother became very emotional, and there were tears of happiness (in her eyes)."
His mother greeted him with traditional aarati. "When we returned to the hotel, there were huge crowds waving at us... I have never seen anything like this before," he said, talking about the jubilation after the historic win.
When asked about Pakistan skipper Shahid Afridi's controversial remarks about Indians, Sachin refused to say much.
"No comments...I have no control over what someone has to say," he said.