Australia produced a match-winning bowling effort to stun defending champions England with a thrilling two-run victory in their first Super Six match of the ICC Women's World Cup at the Brabourne Stadium.
Chasing Australia's 147, the English batters lost the plot as half of their side was back in the hut in just over 10 overs with mere 39 runs on board.
Despite Australia posting their lowest total against England in a World Cup game, they defended it successfully, thanks to the Aussie pace trio of Megan Schutt, Julie Hunter and Holly Ferling, who snapped up two wickets each within 11 overs to leave the holders reeling at 39 for 6.
Skipper Charlotte Edwards was unlucky to have been given leg before and was the first to depart, but soon the three-time champions lost a clutch of wickets -- keeper batter Sarah Taylor, opener Danielle Wyatt, all-rounder Arran Brindle, Heather Knight and Jennifer Gunn--- in just over half an hour's time.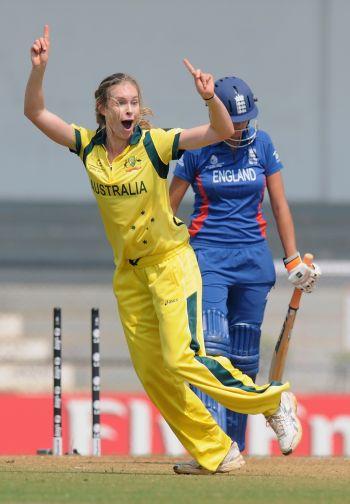 The match was not devoid of any drama as Lydia Greenway (49) and Laura Marsh (22) steadied the innings with a 55-run stand for the seventh wicket off 155 balls. But once Marsh got out leg before, England needed 52 off 81 balls with two wickets in hand.
Greenway faced 113 balls during her 144-minute stay and she was a run shy of her half century when she was caught by Sthalekar.
The English tail wagged a bit and the last wicket pair made the Aussies nervous as they scored 31 but in the end they fell short by two runs.
Earlier, opting to field, England bowlers put up an impressive show to dismiss arch-rivals Australia for a dismal 147 in 44.4 overs. Anya Shrubsole with figures of 3 for 24 was the pick of the bowlers and she was well supported by Katherine Brunt (2/22), Arran Brindle (2/33) and Holly Colvin (2/19) who shared six wickets among them.
An 82-run sixth wicket partnership between Lisa Sthalekar (41) and Sarah Coyte (44) was the highlight of Australia's innings as it helped them to post a three digit score on the board.
Coyte's patient knock in 81 balls consisted of six fours, while Sthalekar who was lucky to have survived a dropped catch on her personal score of 11, hit four fours.
Five-time champions Australia's misery can be gauged from the fact that they lost their top four batswomen, including last match centurion Meghann Lanning, opener Rachael Haynes, Jessica Cameron and Alexandra Blackwell, for a paltry score 27 runs.
Scorecard:
Australia Innings:
Meghann Lanning c Taylor b Shrubsole 17
Rachael Haynes c & b Shrubsole 2
Jessica Cameron b Shrubsole 0
Alexandra Blackwell c Taylor b Brunt 4
Lisa Sthalekar b Brindle 41
Jodie Fields c Greenway b Gunn 3
Sarah Coyte c Shrubsole b Colvin 44
Erin Osborne c Greenway b Colvin 0
Julie Hunter not out 16
Megan Schutt c Knight b Brindle 2
Holly Ferling c Shrubsole b Brunt 4
Extras (lb-6, w-8) 14
Total:(all out in 44.4 overs) 147
Fall of wickets: 1-10, 2-10, 3-15, 4-27, 5-32, 6-114, 7-115, 8-128, 9-135
Bowling: Katherine Brunt 7.4-0-22-2, Anya Shrubsole 10-2-24-3, Jennifer Gunn 5-0-22-1, Arran Brindle 8-1-33-2, Holly Colvin 10-1-19-2, Laura Marsh 4-0-21-0.
England Innings:
Charlotte Edwards lbw Schutt 8
Danielle Wyatt c Fields b Ferling 16
Sarah Taylor c Lanning b Schutt 0
Lydia Greenway c Sthlakekar b Ferling 49
Arran Brindle c Haynes b Hunter 1
Heather Knight lbw Hunter 0
Jennifer Gunn b Ferling 0
Laura Marsh lbw Coyte 22
Katherine Brunt c Schutt b Sthalekar 2
Holly Colvin c Fields b Osborne 16
Anya Shrubsole not out 13
Extras: (lb-4, w-13, nb-1) 18
Total: (all out; 47.3 overs) 145
Fall of wickets: 1-11, 2-14, 3-37, 4-38, 5-38, 6-39, 7-96, 8-114, 9-114
Bowling: Megan Schutt 7-1-37-2, Julie Hunter 7-2-15-2, Holly Ferling 10-0-35-3, Lisa Sthalekar 10-0-19-1, Sarah Coyte 8-1-20-1, Erin Osborne 5.3-0-15-1.
Photograph: Pal Pillai/Getty Images