West Indian batting legend Brian Lara, on Sunday, lamented that he never played a Test match at the historic Eden Gardens and suggested that Cricket Association of Bengal officials organise a veterans' match at the venue, and, that, it should including Sachin Tendulkar and Sourav Ganguly.
"In a lighter vein Lara told us to prepare a 'batting-friendly' pitch so that Tendulkar would score 200-plus runs, Ganguly 150 and 100-odd runs for him," CAB treasurer Biswarup Dey said.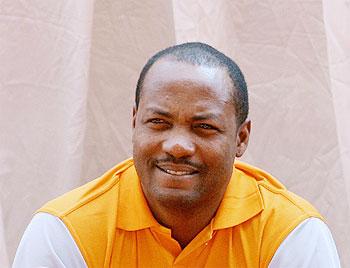 Lara was CAB's special invitee to watch the proceedings of last two days of the first Test between India and the West Indies – the match that ended in three days with the hosts emerging comfortable winners.
"It was unfortunate that he could not watch the Test match here but he was very happy to be here," Dey added.
During his glittering 16-year international career, Lara has played three ODIs at the Eden but has never been part of a Test match.
Lara also went to the dressing rooms and appeared emotional.
"With no match, and today being a Sunday, we're closed. But he's so kind that he wanted to come and see EdenGardens. It's a memorable day for Bengal cricket."
Lara, accompanied by a friend, spent about 15 minutes at the ground, took a look at the pitch and was happy to oblige the Cricket Association of Bengal officials and the Eden groundsmen for photo-ops.
Forced to alter his plans after India's quick win, Lara asked CAB on Saturday to take him to the Mother House.
"He paid his tribute to Mother Teresa spending some time at the Mother House on AJC Bose Road.
"We also took him to the ancestral house of Swami Vivekananda on Simla Street in north Kolkata," Dey added.
The CAB was overwhelmed to see Lara's knowledge about the city.
"Honestly, I never had an opportunity to meet the great Brian Lara. I always knew him as a great cricketer. But today I found that he has got good knowledge about Kolkata and Indian culture.
"He knew that every year we observe a blood donation camp in the name of Sir Frank Worrell who had saved Nari Contractor's life by donating blood (in the 1961-62 tour to the Caribbean islands)."
Lara also posed for shutterbugs near the wax statue of Tendulkar at the EdenGardens.
Lara is slated to meet Ganguly during a talk show being organised by the CAB.