Since the series loss to Australia in 1995 - their first in 16 years – West Indies cricket witnessed a decline.
A look at the Tests that ended the Calypso kings' reign as unofficial World champions.
WI vs AUS - 1st Test at Bridgetown
Australia won by 10 wickets
Australia lead the four-Test series 1-0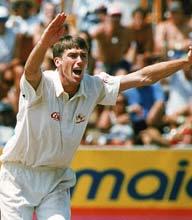 Australia's pace bowlers shared 15 wickets between them as the West Indies batsmen failed to get going in both innings. Brian Lara (65) and Carl Hooper (60) helped the home team recover from 3 for 6 to 130 before Hooper was dismissed by Brendon Julian. Another collapse ensued and the Windies folded up for 195.
In reply, all the Australian batsmen contributed to help the team reach 346, with Ian Healy top-scoring with 74. The expected West Indies fightback never came and the hosts were bundled out for 189 in the second innings. Glenn McGrath was adjudged man-of-the-match after finishing with figures of 8-114.
Brief scores:
West Indies (1st Innings): (195 all out, Lara 65, Julian 4 for 36)
Australia (1st Innings): (346 all out, Healy 74, Ambrose 2 for 41)
West Indies (2nd Innings): (189 all out, Jimmy Adams 39, McGrath 5 for 68)
Australia (2nd innings): (39 for 0).
---
WI vs AUS - 2nd Test at St John's
Match drawn
Australia lead the series 1-0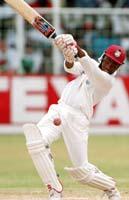 The West Indian pace attack was still powerful. Curtley Ambrose and Courtney Walsh were ably backed up by Winston and Kenny Benjamin. In the first innings a superb 6-wicket spell from Walsh saw Australia being dismissed for 216 in 68.3 overs. That meant the West Indies were primed to drive home the advantage. But the Australian bowlers had other ideas. With the exception of a 102-ball 88, the highest score in the series so far, by Brian Lara, none of the other batsmen could put together a big innings as the Windies were bowled out for 260.
David Boon (67), Mark Waugh (61) and Steve Waugh (65 not out) batted well to nullify the WI advantage as Australia declared on 300 for 7 in their second innings. West Indies made it to 80 for 2 before the match was declared a draw.
Brief scores:
Australia (1st Innings): (216 all out, Slater 41, Walsh 6 fr 54)
West Indies (1st Innings): (260 all out, Lara 88, Reifel 3 for 53)
Australia (2nd innings): (300 for 7 declared, Boon 67, Walsh 3 for 92)
West Indies (2nd Innings): (80 for 2, Lara 43, Reifel 1 for 12).
---
WI vs AUS - 3rd Test at Port of Spain
West Indies won by 9 wickets
The series is level 1-1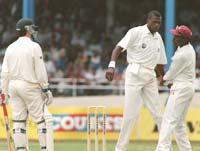 A moist green pitch greeted the teams at Port of Spain and it was livened up even more by rain on the day 1. Michael Slater (0), Taylor (2) and Mark Waugh (2) were back in the dressing room in the first nine overs of the game. This is the game that is best remembered for Curtly Ambrose's single-handed destruction of Australia. The lanky fast bowler had taken only three wickets in the first two Tests and there were indications that he might be dropped to give him time to recover his form. The criticism hit home and Ambrose responded with a devastating spell of nine for 65.
The West Indies were in no mood to give up the Frank Worrel trophy easily. The pitch came in for criticism from both the captains.
Brief scores:
Australia (1st Innings): (128 all out, Steve Waugh 65, Ambrose 5 for 45)
West Indies (1st Innings): (136 all out, Adams 42, McGrath 6 for 47)
Australia (2nd innings): (105 all out, Taylor 30, Ambrose 4 for 20)
West Indies (2nd Innings): (98 for 1, Stuart Williams 42, Mark Waugh 1 for 9).
---
WI vs AUS - 4th Test at Kingston
Australia won by an innings and 53 runs
Australia won the 4-Test series 2-1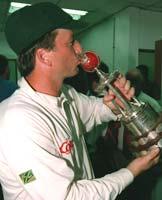 A pulsating run-a-minute century stand between Richie Richardson and Brian Lara was followed by a collapse that saw the West Indies lose nine wickets for 162 and be bowled out for just 265. Australia responded with a 231-run partnership between Mark (126) and Steve Waugh (200) in just under four hours to gain a match-winning lead worth 266 runs.
The West Indies, cricket`s unofficial world champions, were on their last leg. Some brilliance from Lara and Richardson was needed; instead, the West Indies succumbed to a numbing defeat. It was the home team's first innings defeat since January 1985 and its first at home since March 1958. The West Indies' reign was as World champions was over.
Brief scores:
West Indies (1st Innings): (265 all out, Richardson 100, Reiffel 3 for 48)
Australia (1st innings): (531 all out declared, Steve Waugh 200, Walsh 3 for 103)
West Indies (2nd Innings): (213 all out, Winston Benjamin 51, Reiffel 4 for 47).