He has improved by leaps and bounds in the last one year and Ravindra Jadeja's on-field exploits has certainly helped him attract the attention of major corporate houses.

Jadeja, who was awarded the prestigious 'Golden Ball' for ending up as the highest wicket-taker in India's victorious ICC Champions Trophy campaign, has been receiving some attractive endorsement offers from national as well as multi-national brands.
- Champions Trophy: Indian players party through the night after win

"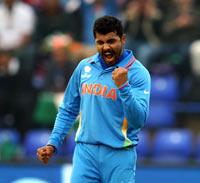 We are currently evaluating the offers. You will soon see some very interesting brands associating themselves with Jadeja," Arun Pandey, whose company Rhiti Sports manages the Saurashtra all-rounder, stated.

"To match his on-field exploits, Jadeja has also worked hard on creating an image with his hairstyle, handle-bar moustache, tattoos which certainly makes him stand out from the rest of the pack.

"Corporates look for an x-factor in a player and Jadeja as a package is certainly an attractive proposition," a senior official of a leading advertisement firm explained.

Jadeja's popularity has also increased manifold during the last edition of IPL when his skipper Mahendra Singh Dhoni released the first installment of 'Sir Jadeja jokes' on
Twitter.

With everything going his way, no wonder that 'Brand Jadeja' is ready to hit the market with full force.
Photograph: Michael Steele/Getty Images