New Zealand will look to score around 450 runs in their first innings on Saturday and pick a few early wickets to put the hosts under pressure in the second and final Test, opener Martin Guptill said.
After scoring 328 for six on day one of the second Test match at Chinnaswamy stadium, Guptill said his team would now look to exploit the conditions as the wicket had swing and seam on it.
"The contest from here on would be interesting if my team put 400-450 on the board and pick a few wickets early on because there is a bit of swing and seam on this wicket. If we do that it will be great," he said.
Guptill said the wicket looked good and hoped the team would be able to continue the positive way of play next morning. "The wicket was a little flat and our positive intent paid off well," he added.
Guptill said the team came out with a positive frame of mind of attacking the Indian bowlers. "Ross (Taylor) showed some excellent footwork," he added.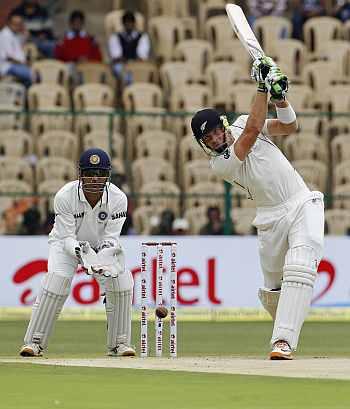 Guptill said New Zealand had always played positive cricket and luckily the plan worked out for the team which alleviated some of the pressure off the team.
"We got enough boundaries initially that took load of us," he said.
Asked if being aggressive cost them too many wickets, Guptill said: "You are going to give chances when you play positive. We got away with it sometimes and not on other occasions. That's the way cricket goes."
On whether Indian bowling was below par as compared to Hyderabad Test, Guptill said the hosts are a good bowling side, but the bad balls which they bowled were punished and it put pressure on them.
Guptill said it was all about properly executing a shot against the spinners as each player scores differently.
"Sometime you opt to go straight and may not get it right. That happens in cricket. Franklin didn't get it in the middle. He got a leading edge. It's quite different for each player," he said.
"Each player scores differently. I think they should go for the shots and they would continue to do well."
Guptill was a bit disappointed for not converting his starts, but said he is trying to make sure that doesn't happen in the next few Test matches.
"It is a little bit frustrating but that is the way it goes. Sometimes you go on to make a big score and sometimes you go only half way there," he added.
Guptill also praised his captain Ross Taylor for scoring a brisk 113 and said he is a class player and his presence in the middle makes things a lot easier for the next batsmen.
"It takes a bit of pressure off them," he said.