Having led the West Indies to their maiden ICC Women's World Cup final, skipper Merissa Aguilleira On Saturday said her team has a psychological edge over Australia in Sunday's summit clash after their shock eight-run win over the same opponents in the last Super Six stage game.
"We will have a psychological advantage over them. I must say, for that game, everything went wrong for us in the morning. We had a few players falling ill and one of the players got injured and had to pull out at the last minute," said Aguilleira on the eve of the day-night final to be held at the Brabourne Stadium, Mumbai on Sunday.
"I think it was God who saw us through that game and we are really thankful for it. It's a big accomplishment for us and we have to grab hold of it," she said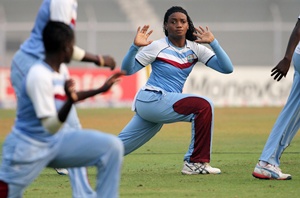 The 27-year-old wicketkeeper said winning the trophy would mean a lot for the people back home.
"It would mean so much for them that we can bring home this trophy. We believe, once we keep ourselves in order and really bring forth our A game, that will be possible for them," she said.
She conceded that the five-time champions Australia would be a tough team to beat and the Caribbean side will have to bring out their best game.
"Well, it's good that we have seen them. The more we see them, the better idea we will have how they play. I guess it is more for us to analyse.
"It will be on the lines of us to bowl them and really accomplish something big for the people of the Caribbean as well. I guess it is good opportunity to play against them again. They are wonderful team so we definitely have to bring out our A game," Aguilleira said.
West Indies could be the world's number one women's cricket team if they win tomorrow and Aguilleira said her side has nothing to lose.
"It is the best feeling. We have nothing to lose right now. We have gained everything but yes it will be good to know that we could actually get the trophy under the West Indies shorts," she said.
Photograph: ICC/Solaris Images