After South Africa were penalised five runs for ball tampering against Pakistan in the second Test in Dubai on Friday, AB de Villiers insisted the Proteas were not cheats.
Umpires Ian Gould and Rod Tucker punished the Proteas after tea on the third day when they found a change in the condition of the ball.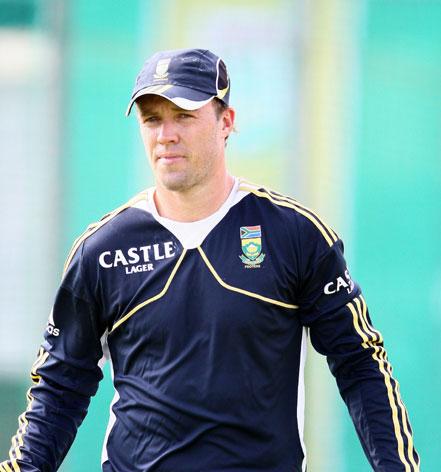 Television replays showed Faf du Plessis was rubbing the ball over a zip on his thigh.
"Honestly, we're not the team that scratches the ball," de Villiers said. "We don't cheat, it's as simple as that. I know Faffy very well, he's the last man to try anything like that." De Villiers said du Plessis, South Africa's captain in Twenty20s, was responsible for looking after the condition of the ball and keeping the shine on.
"It's not an easy job, I thought he did it very well," de Villiers said. But the umpires summoned captain Graeme Smith after the 30th over, changed the ball, and Gould signalled five penalty runs added to Pakistan's total as extras.
De Villiers said he had no idea how the umpires discovered the ball's condition had changed.
"There was no talk about it, no warnings and nothing, it was just out of nowhere," he said. Pakistan were 67-3 at the time in their second innings, trying to score 418 to avoid an innings defeat. Pakistan finished the day at 132-4, needing 286 runs to avoid an innings defeat.
Pakistan were at the receiving end during the Oval Test in 2006, the last and only time a team was penalised five runs for ball tampering in a Test match.
Then Pakistan captain Inzamam-ul-Haq reacted strongly and decided not to continue the Test in protest. Australia umpire Darrell Hair reacted by awarding the game to England - the only forfeit in the history of Test cricket.
This month, the ICC amended its laws regarding the condition of balls, saying "if a player responsible can be identified" the ball will be changed, a five-run penalty will be awarded, and the player responsible will be reported.
It's expected the umpires will lay a charge against du Plessis to match referee David Boon. Du Plessis faces a range of penalties; a 50 to 100
percent fine of his match fees, a suspension from one Test and two one-day internationals or two Twenty20s, whichever is played first.
Image: AB de Villiers during the South African national cricket team training session.
Photo: Richard Huggard/Gallo Images/Getty Images