"Ever-shrinking" former Australian spin wizard Shane Warne continues to draw the attention of frenzy public with blogs and news sites flooded with chatter about his new look.
Warne, who has apparently shed a few kilos since he started dating British actress Liz Hurley, said he had lost 12kgs in two months, having followed a new diet regime.
"I really wanted to drop a few kilos and get super fit for my last year of cricket in the IPL with the Rajasthan Royals," Warne wrote on his official website.
The noticeably slimmer cricketer hit the headlines with the 'Daily Telegraph' describing him as "Hurley's Warnie is suddenly less burly," and terming the leggie as "ever-shrinking".
Warne, who has changed his dietary habits for a leaner look, said, he "couldn't be happier with the results."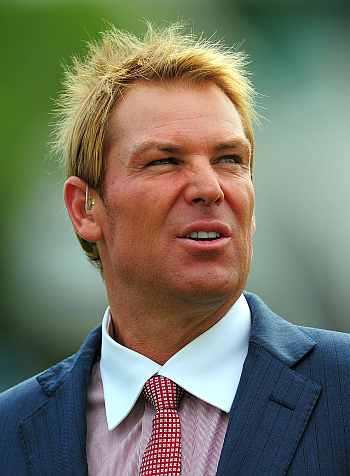 Meanwhile, some of mastheads of the leading newspapers described the bowler as "Scrawny Warnie" and the "King of Slim" -- acronymous to his famous "King of Spin" mantle -- and wondered whether the trimmed-up look was orchestrated by the Hollywood star even as Hurley decided to take full credit for Warne's remarkable weight loss.
"I've decided to take full responsibility for SW's remarkable weight loss and will be publishing my secret, possibly evil, regime shortly," the 46-year-old actress wrote on her Twitter page.
Social media sites, though, were a bit rude in describing the veteran cricketer.
"We'll know Shane Warne is too thin when the next time he orders a diet shake he falls into the straw," wrote one.
Another added, "Is it me or is Shane Warne actually beginning to look like Liz Hurley?"
The couple, however, responded with good humour, with the actress taunting Warne about eating a peanut butter and jelly sandwich while "you slowly spoon up your thin and tasteless gruel."