Shane Warne is set to return to cricket in Australia's Twenty20 Big Bash competition less than six months after announcing his retirement, local media reported on Friday.
The 42-year-old leg-spinning great said he was bringing an end to his professional career in May after his final match for the Rajasthan Royals in the Indian Premier League to focus on media work and his business interests.
The Sydney Morning Herald on Friday, however, reported that Warne was set to sign with the Melbourne Stars for the first season of the relaunched eight-team Big Bash League.
Warne, who last played in Australia during the 2006-2007 Ashes whitewash of England and ended his Test career with 708 wickets, hinted on his Twitter page last week that he might be coming out of retirement.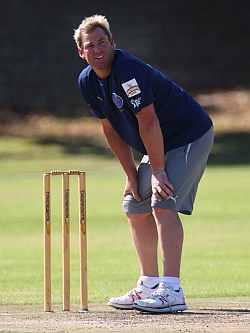 "Might have some exciting news about cricket to share with you all soon... Hope you are excited as I am about this... Watch this space ! Haha," he tweeted.
His manager, James Esrkine, further fuelled the speculation with his comments on Thursday about Warne's fitness.
"He went out on the ultimate high in Australia, taking 700 wickets, winning the Ashes," he told the Herald.
"He's as fit as he's ever been and he believes he is still one of the top spin bowlers in the world but he is 42 and realises if he plays there is a certain amount of hype and media attention that comes with that.
"One of the advantages would be that his kids are now old enough to watch him play..."
Warne remains one of his country's most popular cricketers and his signing would be a major boost to the Big Bash League, which begins in Sydney on December 16.