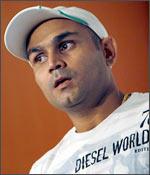 Virender Sehwag's allegations of nepotism and corruption in the Delhi and District Cricket Association has triggered a virtual revolt against the administration with more senior players, like Gautam Gambhir and Ishant Sharma, threatening to quit the Delhi Ranji Trophy team.
Even as rattled DDCA officials sought to play down the brewing unrest among its players, Sehwag claimed that more players would support him on the issue, raising the possibility of a showdown just weeks before the Ranji season.
"More will come out," said Sehwag, who is currently in Bangalore undergoing rehabilitation for his injured shoulder.
The players are unhappy with the DDCA sports committee, which, they claimed, interfered in selection matters and also indulged in corruption.
DDCA Sports secretary Sunil Dev refuted the allegations and said he is prepared to talk to the players and resolve the differences.
Apart from Gambhir and Sharma, left-arm paceman Ashish Nehra is another senior player in Sehwag's campaign against the sports committee.
A concerned DDCA president Arun Jaitley told his officials not to precipitate the crisis and let things "cool down".
"The president wants things to cool down. He will meet Sehwag when he comes back from Bangalore and hopefully resolve all the issues," a top DDCA source said.
Sehwag is likely meet Jaitley on August 27 or 28.
The explosive right-hander has threatened to leave the team for Haryana, saying that he is frustrated with interference in selection matters.
Gambhir and Nehra made it clear that even they would "not hesitate" to move to other associations if things do not improve and transparency in the selection process is not brought in.
Gambhir also felt the DDCA sports committee, which does not have a single cricketer on its panel, needs to be changed as it puts pressure on captains and stand-in captains to play their candidates.
Ishant voiced his support for Sehwag, saying "he is absolutely right about selection matters".
Interestingly, the revolt comes just days before the crucial sports committee elections. Some DDCA officials are interpreting the move as a "pressure tactic" by the players.
The players have voiced their dissent only through the media but have communicated their grievances in writing to the DDCA.
DDCA vice-president and chairman of the selection committee Chetan Chauhan conceded that there were certain problems of nepotism which need to be addressed.
"Delhi has a lot of influential people, who do put some pressure on the selectors to choose their wards. There are problems which need to be sorted out, but I am sure everything will be resolved. We do not want to lose top class players like Sehwag and others," he said.
Sources said the DDCA office-bearers will meet on August 22 to discuss the issue.
Sehwag also got support from former India cricketer and Delhi coach Madan Lal, who was critical of the functioning of the Sports Committee.
"I do not know how the Sports Committee is so powerful and why there are so many complaints. The matter has to be looked into," he said.
Meanwhile, the BCCI sought to distance itself from the developments, saying it is an internal matter between the players and their association.
"It is an internal matter between DDCA and the players. The DDCA is capable of resolving the issue," BCCI spokesman Rajiv Shukla said.