South Africa's new bowling sensation Vernon Philander is trying to stay grounded after becoming the second fastest bowler to grab 50 wickets in Test cricket. 
Philander claimed sixth five-wicket haul in just his seventh Test, matched that of England's Tom Richardson, who also achieved 50 wickets in the first innings of his seventh Test, in 1896. 
Australia's Charlie Turner holds the record having achieved his 50th wicket in his sixth Test in 1888.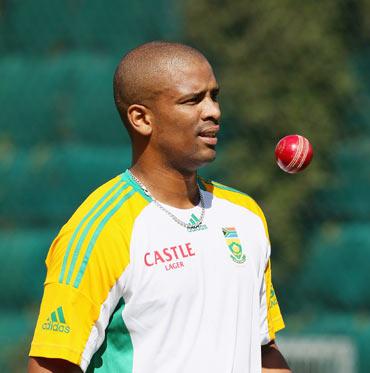 Philander believes every wicket is important for him, and it is just that they have come for him in a swift fashion. 
"Each wicket is important.
"It has come at a rapid pace, but I'll take it one pole at a time.
"Bowling form is like batting form. If things go for you, you make sure you keep doing it (and) that's what I'm doing," Sports24 quoted Philander, as saying. 
"This attack gives me the freedom to do what I need to do.
"We've got guys who can keep it tight, they keep a hold on the game and give me the chance to strike all the time and to put my skill on show.
"It's a special squad and a special bowling unit that we have.
"It's all coming together," he added.
Photograph: Sandra Mu/Getty Images