New Zealand Cricket (NZC) chief executive Justin Vaughan has announced that he will walk away from the job at the end of November.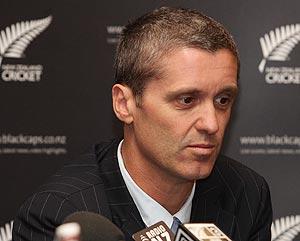 In a statement, Vaughan cited two main reasons for his departure: the need for NZC to have a CEO who will commit through to the co-hosting of the 2015 World Cup, and the intense travel requirements of the role, which is not ideal with a young family.
"It's been a hard decision to make, but I'm certain it's the right time for me to explore new opportunities. I have loved the role and have been privileged to serve New Zealand Cricket," stuff.co.nz quoted Vaughan, as saying.
Vaughan was appointed to the position in April 2007, and commenced the job on June 5, 2007, taking over from Martin Snedden.
He further said that the role had been harder than he had envisaged.
"The game goes through tumultuous times. Sneds had his own issues to deal with in terms of bombs and I guess I have had to deal with ICLs, IPLs and Twenty20," he said.