The future of Hawkeye, the ball tracking technology used to review leg before decisions, is under a cloud following a referral in ongoing first Test between Sri Lanka and Australia.
Australia opener Phil Hughes was given out leg before wicket as he attempted to sweep Tillakaratne Dilshan. The decision was reviewed by the batsman, and television replays clear showed that the ball was spinning appreciably from middle stump towards off. However, Hawkeye's prediction path was exactly the opposite – that the ball was going straight to hit the leg stump.
Australian umpire Simon Taufel, who is in Galle to conduct a third umpire accreditation seminar, along with the officiating umpires Richard Kettleborough, Aleem Dar and Tony Hill have sent the relevant footage of the incident to the ICC, according to a report in Cricinfo.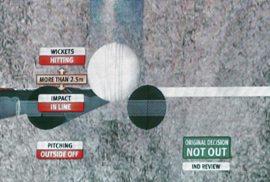 Taufel told ESPNcricinfo that more needs to be done to prove the veracity of devices such as Hawk-Eye, HotSpot and Virtual Eye via independent testing that sits outside the views of broadcasters and suppliers.
"Why can't we tap into technology if the match official is missing a piece of information, and is it right that the match official has to make a decision before technology can be used?
"That's a fundamental question I think we're still working through. Under the current system we're encouraged to make decisions and if a player feels they disagree with that then they've got the right to review. But if they get that wrong twice, then we can't use technology anymore in that innings for that particular team," he was quoted as saying.
The Board of Control for Cricket in India has already rejected the use of Hawkeye as they are still not convinced about it's accuracy.
India had strongly opposed the Decision Review System (DRS) till recently, but later softened its stand. They agreed to use the DRS system partly, by only using the audio tracker and Hot Spot infra-red cameras, which will be used in all 13 home international games later this year.
Following the ICC Annual Conference in June, India, for the first time since 2008, agreed to use the DRS, though in a modified form, for their ongoing tour of England.
However, the DRS was without the Hawk-Eye ball-tracker and, therefore, did not include leg before decisions.
The BCCI had opposed the DRS on the ground that it is not 100 per cent accurate. Senior batsman Sachin Tendulkar had said that DRS will be more acceptable if it has Hot-Spot technology.
Photograph: Getty Images