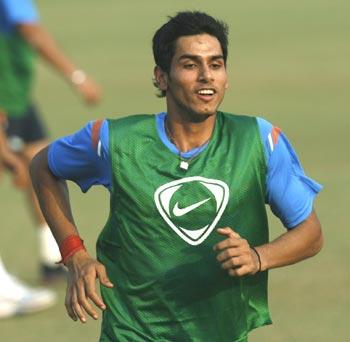 Rookie India pacer Sudeep Tyagi wants to forget Ferozeshah Kotla pitch fiasco in his debut match against Sri Lanka and eyeing some impressive performance in the forthcoming tour of Bangladesh.
Tyagi scalped Sri Lankan skipper Kumar Sangakkara and gave away just 15 runs in 6.3 overs before the One-dayer was abandoned because of dangerous pitch.
"I was quite disappointed with the incident because my international career did not start the way I wanted. I was bowling quite well in the match and my economy rate was also not bad when the game was abandoned after 23.3 overs," Tyagi said.
"But I have left the incident behind and now gearing to produce some good performance in Bangladesh. I am going there with the hope of making a fresh beginning of my career and am very confident about making a mark," the 22-year-old added.
In Bangladesh, Mahendra Singh Dhoni's men will play a Tri-series, also involving Sri Lanka, before taking the hosts in two Test matches.
Tyagi was among the Indian bowlers whose deliveries kicked up dangerously during the Ferozeshah Kotla match and after one such incident, visiting batsman Thilina Kandamby complained to the umpires following which the match was abandoned.
"Kotla wicket was not good indeed but during bowling I was only thinking about the line and length of the deliveries. Some of the deliveries kicked up dangerously during the match," Tyagi said.
The Uttar Pradesh paceman was all praise for the senior members on Team India, including Sachin Tendulkar.
"Everybody, including Sachin, help me a lot. Sachin's valuable tips have helped me to improve my performance. He always encourage me while facing my deliveries in nets and tells me to rectify my faults," Tyagi said.
"I freely approach the seniors in any difficulty. I feel happy when cricketers like Zaheer (Khan) bhai, who has been my idol for years, and Ashish (Nehra) bhai tell me how to improve my bowling. Coach (Gary Kirsten) is also very cooperative," he added.
Tyagi also feels his high-arm action will be helpful in the Bangladesh tri-series, commencing from January 4.
"I think, high-arm action will give me some advantage in Bangladesh. Besides, it is also important to maintain the speed and at the same time improve the accuracy to put the ball in proper line to taste success at international level," Tyagi said.