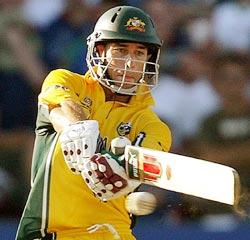 Australian One-day great Michael Bevan said he would not be surprised if the 50-over game vanished forever at the expense of the Twenty20 phenomenon.
Bevan, who scored nearly 7000 runs in 232 One-day Internationals, said: "I wouldn't be disappointed.
"As a cricketer, it's really enjoyable playing in front of big crowds, and Twenty20 allows that to happen. I played the One-day form of the game and was known as a One-day player because I did well, but I didn't see myself as a ODI player, I saw myself as a cricketer," the Daily Telegraph quoted him, as saying.
"With Twenty20 cricket, if it continues to evolve and become more popular, it creates opportunities for cricketers in the future. There needs to be enough upside for one-day cricket in terms of revenue and who is watching it at the ground and on TV (for it to continue)," he added.
Ponting believes crowd numbers for five One-dayers against Pakistan -- followed by the five One-dayers against the West Indies -- will provide a litmus test for the popularity of 50-over cricket in Australia.
He concedes Twenty20 is snowballing but believes cricket's limited-overs formats can co-exist.
"I would hate to even think about the day where 50-over cricket is not played anymore and I don't think that will ever happen," Ponting said.