Marlon Samuels blasted an unbeaten 69 off just 46 balls to spur West Indies to an easy 27-run victory over England in their first Twenty20 international at Kensington Oval in Barbados on Sunday.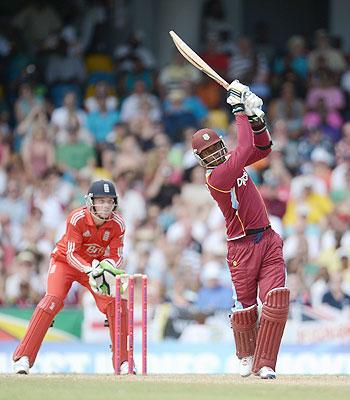 Samuels helped West Indies compile an impressive total of 170 for three after Chris Gayle got the innings off to a flying start with a quickfire 43.
"I've been working hard, but the hard work is paying off," Samuels said in a post-match interview.
"I love to play cricket in Barbados, the pitch was one you could play your shots on, so we had to back ourselves."
England, who beat the West Indies 2-1 in their three match one-day series, could only muster 143 for nine in reply and never really looked like getting to their target.
All-rounder Tim Bresnan top scored for England with 47 not out off 29 deliveries but his late blast counted for little after the tourists had slumped to 73-6 in the 12th over.
Spinner Samuel Badree was the pick of the West Indian bowlers, taking 3-17 off four overs, including the stumpings of Alex Hales and Luke Wright in successive balls after Sunil Narine only managed two overs because of injury.
"We didn't get going today, but that can happen in T20 when you a chasing a good score," said England captain Stuart Broad, who also struggled with a sore knee.
"I've got a touch of patellar tendonitis and may not play the next two games to get ready for the World T20."
The teams will meet again at Bridgetown on Tuesday and Thursday as part of their preparations for the fifth Twenty20 World Cup, starting in Bangladesh later this month.
West Indies are the defending champions after winning the last World Cup in 2012 while England won the previous title in 2010, defeating Australia in the final at Kensington Oval.
Scoreboard
West Indies
D. Smith b Bopara 27
C. Gayle lbw b Tredwell 43
M. Samuels not out 69
L. Simmons c Lumb b Bopara 3
A. Russell not out 24
Extras (LB-3, NB-1) 4
Total (3 wickets, 20 overs) 170
Fall of wickets: 1-57, 2-87, 3-112.
Bowling: Broad 2-0-26-0, Dernbach 4-0-36-0, Bresnan 4-0-36-0, Stokes 2-0-30-0, Bopara 4-0-23-2, Tredwell 4-0-16-1.
England
M. Lumb c Rampaul b Badree 18
A. Hales st Ramdin b Badree 3
L. Wright st Ramdin b Badree 0
E. Morgan c (sub) Charles b Samuels 19
J. Buttler c (sub) Charles b Narine 0
R. Bopara c and b Dwayne Bravo 42
B. Stokes st Ramdin b Samuels 4
T. Bresnan not out 47
S. Broad run out 5
J. Tredwell run out 1
J. Dernbach not out 1
Extras (B-1, LB-2) 3
Total (9 wickets, 20 overs) 143
Fall of wickets: 1-13, 2-13, 3-36, 4-40, 5-55, 6-73, 7-101, 8-123, 9-133.
Bowling: Badree 4-0-17-3, Rampaul 3-0-31-0, Narine 2-0-8-1, Dwayne Bravo 4-0-30-1, Samuels 4-0-21-2, Sammy 1-0-12-0, Russell 2-0-21-0.
Image: West Indies' Marlon Samuels hits a six against England on Sunday
Photograph: Gareth Copley/Getty Images