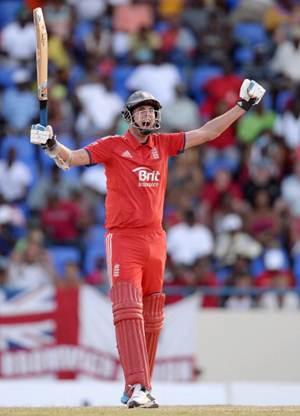 Ravi Bopara and captain Stuart Broad put on 58 unbroken runs to guide England to a nerve-jangling, three-wicket victory over the West Indies in the second One-day international in North Sound, Antigua, on Sunday.
Bopara, 38 not out, and Broad, 28 not out, combined in a patient stand for the eighth wicket as England reached 163 for seven in 44.5 overs, in reply to the West Indies total of 159 all out at the Vivian Richards Cricket Ground.
England levelled the three-game series at 1-1, having lost the opener at the same venue on Friday by 15 runs despite a superb 106 from Michael Lumb on his ODI debut.
On a slow pitch England lost opener Moeen Ali for 10 and Luke Wright for a duck, with only 30 runs on the board, before Lumb (39) and Joe Root (23) orchestrated something of a recovery with a third-wicket stand of 49 in 13 overs.
Lumb was then dismissed leg before wicket as he played across the line to a quicker delivery from left-arm spinner Nikita Miller.
Just four overs later, England had slipped to 89 for six as Root, Ben Stokes (four) and Jos Buttler (no score) also departed.
Bopara and Tim Bresnan mounted a mini-fightback, adding 16 runs before Bresnan was run out for 10, but it was Bopara and Broad who spared England blushes as they doggedly overhauled the West Indies target with 31 balls remaining.
Earlier, Lendl Simmons provided the backbone in a mediocre West Indies batting display, hitting four boundaries and two sixes in 98 balls as he top-scored with a fluent 70.
He dominated partnerships of 51, for the fourth wicket with Darren Bravo (13), and 52, for the fifth wicket with Dwayne Bravo (20), before he departed in the 38th over.
Attempting to loft the left-arm spin of Stephen Parry over the infield, Simmons holed out to Stokes at deep midwicket for West Indies to slip to 145 for six.
Parry, making his ODI debut, picked up two more wickets as the West Indies innings quickly folded, finishing with a return of three for 32 in his 10 overs.
The three-game series finishes at the same venue on Wednesday before West Indies host England in three Twenty20 internationals in Barbados.
Scorecard
West Indies
DR Smith c Wright b Root 5
K Powell c & b Ali 16
K Edwards c Tredwell b Root 9
DM Bravo b Broad 13
L Simmons c Stokes b Parry 70
DJ Bravo st Buttler b Tredwell 20
D Sammy c Broad b Parry 3
D Ramdin b Bresnan 5
N Miller not out 2
S Narine st Buttler b Parry 4
R Rampaul c Lumb b Tredwell 1
Extras: (lb 5, w 6) 11
Total: (all out; 44.2 overs) 159
Fall of wickets: 1-10, 2-30, 3-30, 4-81, 5-133, 6-145, 7-151, 8-151, 9-155, 10-159
Bowling: J Root 5-0-15-2, S Broad 8-0-25-1(1w), M Ali 3-0-11-1, J Tredwell 9.2-2-39-2 (1w), S Parry 10-1-32-3(1w), T Bresnan 5-2-13-1, R Bopara 2-0-6-0, B Stokes 2-0-13-0(2w).
England:
M Lumb lbw Miller 39
M Ali c Miller b Rampaul 10
L Wright b Narine 0
J Root c & b D Bravo 23
B Stokes c †Ramdin b Miller 4
J Buttler c Ramdin b D Bravo 0
R Bopara not out 38
T Bresnan run out (DJ Bravo/Ramdin) 10
S Broad not out 28
Extras: (lb 5, w 5, nb 1) 11
Total: (for 7 wickets; 44.5 overs) 163
Did not bat: J Tredwell, S Parry
Fall of wickets: 1-29, 2-30, 3-79,, 4-81, 5-81, 6-89, 7-105.
Bowling: D Bravo 10-1-41-2(1nb, 2w), R Rampaul 10-0-40-1, S Narine 10-0-25-1 (2w), N Miller 10-1-28-2, D Sammy 4-0-19-0, D Smith 0.5-0-5-0
Image: England captain Stuart Broad celebrates hitting the winning runs in the second One-Day International against the West Indies.
Photograph: Gareth Copley/Getty Images