Paceman Stuart Broad, who set the stage for England's win in the fifth Test with his five-for, felt his decision to turn down a lucrative Indian Premier League offer helped him to concentrate on the Ashes series.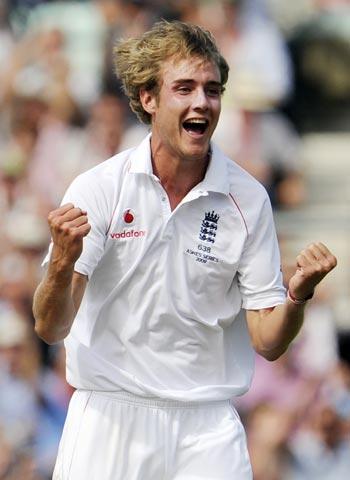 Broad scalped five wickets, including of skipper Ricky Ponting and Brad Haddin, for just 37 runs in Australia's first innings at The Oval, helping the hosts win the series 2-1 and wrest the urn from Australia.
"The reason I didn't go was to focus on the Ashes and that really worked out for me. I managed to play in all five Tests and make useful contributions to us winning so that decision was certainly worthwhile," Broad said.
The 23-year-old also admitted that team's bowling coach Ottis Gibson played an important role in keeping him in rhythm during the five-Test series.
"Halfway through the Edgbaston Test I sat down with Ottis Gibson and talked about why I wasn't hitting lengths. May be I was trying to do too many things, searching for wickets too much," Broad was quoted as saying in tabloid 'London Lite'.
However, Broad also harbouring the dream of playing in the cash-rich IPL in the coming years, provided fitness permits him for the "great spectacle".
"The IPL will sometime in my career help me develop as a Twenty20 cricketer, it's a great competition and a great spectacle. But it all depends on how I and my body are feeling, and if anyone wants me," he said.