Australia and West Indies played out a thrilling tie in the third One-Day International at a packed Arnos Vale Ground in Kingstown on Tuesday.
The stadium was full after the prime minister of St Vincent and the Grenadines declared a public holiday following the West Indies' win over Australia two days ago and the teams produced an epic match to fit the occasion.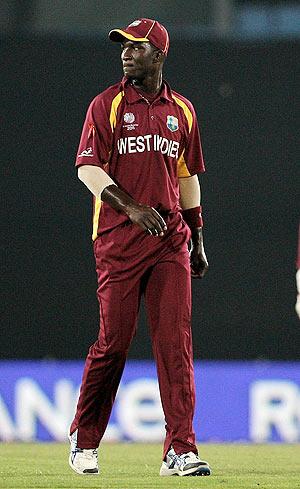 From a seemingly hopeless position, West Indies clawed their way back to the brink of victory, only for Australian fast bowler Brett Lee to run out West Indian captain Darren Sammy with the scores locked on 220.
"We believed we could beat them. We should have won today," Sammy said.
"It shows the belief of the team...I won't put the blame on anybody."
Mike Hussey (67), named man-of-the-match, and George Bailey (59) scored half-centuries for Australia before the touring side suffered a late batting collapse and were bowled out without using up their full 50 overs.
The Australians, who won the series opener by 64 runs but have struggled with the bat in the past two matches, looked set for a much bigger total when they passed 200 for the loss of just four wickets before the lower-order crumbled.
"It's a big learning experience, captaining in a game that is so tight," Australian skipper Shane Watson said.
"We need to adapt and get better in these conditions."
West Indies looked to be in deep trouble early on in their run chase when they slumped to 78 for five in the 21st over before Kieron Pollard (36), Carlton Baugh (33) and Andre Russell (37) steadied the innings.
The Australians looked to have regained control when they finally got through the middle order and reduced the home side to 190 for eight and 204 for nine.
Sammy, batting intelligently with tail-enders Sunil Narine and Kemar Roach, levelled the scores with three balls to go but he was run out after a mix-up with Roach in which both men were stranded at the same end.
The fourth and fifth matches of the series will be held in the nearby Caribbean country of St Lucia, starting on Friday.
Scoreboard:
Australia:
Shane Watson run out 10
David Warner c Pollard b Sammy 37
Matthew Wade b Narine 2
George Bailey c Dwayne Bravo b Samuels 59
Michael Hussey st Baugh b Samuels 67
David Hussey b Roach 15
Daniel Christian lbw b Narine 12
Brett Lee b Roach 0
Clint McKay c Baugh b Narine 0
Xavier Doherty run out 0
Nathan Lyon not out 4
Extras: (B-4, LB-6, W-3, NB-1) 14
Total: (in 49.5 overs) 220 all out
Fall of wickets: 1-34, 2-38, 3-58, 4-170, 5-202, 6-202, 7-203, 8-208, 9-208, 10-220.
Bowling: Kemar Roach 10-0-42-2, Dwayne Bravo 8-1-30-0, Sunil Narine 9.5-1-32-3, Darren Sammy 5-0-27-1, Andre Russell 5-0-28-0, Marlon Samuels 9-0-39-2, Kieron Pollard 3-0-12-0.
West Indies:
Kieran Powell st Wade b Doherty 12
Johnson Charles c Christian b Watson 45
Marlon Samuels lbw b Watson 2
Darren Bravo c Bailey b Watson 0
Dwayne Bravo c Wade b Doherty 13
Kieron Pollard c Doherty b Lyon 36
Carlton Baugh c Christian b McKay 33
Andre Russell c Wade b McKay 37
Darren Sammy run out 10
Sunil Narine c David Hussey b Lee10
Kemar Roach not out 9
Extras: (b-1, lb-5, w-6, nb-1) 13
Total: 220 all out
Fall of wickets: 1-27, 2-52, 3-52, 4-72, 5-78, 6-117, 7-181, 8-190, 9-204, 10-220.
Bowling: Brett Lee 9.4-1-52-1, Clint McKay 10-1-50-2, Xavier Doherty 10-2-30-2, Shane Watson 10-4-30-3, Nathan Lyon 8-2-41-1, Daniel Christian 2-0-11-0.
Photograph: Graham Crouch/Getty Images