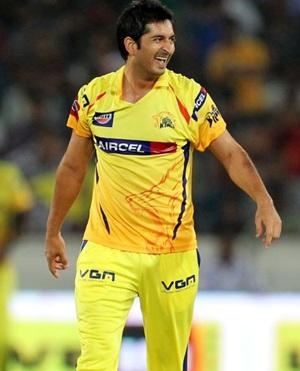 Refusing to get swayed away by the hype after dismissing Sachin Tendulkar, Haryana's young all-rounder Mohit Sharma on Sunday said the plan was to "make him play" as much as possible in his side's much-awaited opening fixture of this season's Ranji Trophy match against Mumbai in Lahli.

Veteran Tendulkar was the talking point in the run-up to the game until the veteran's timber was disturbed by the 25-year-old Chennai Super Kings seamer after scoring just five.
- Scorecard: Haryana vs Mumbai, Day 1

"I was not thinking that this was his last (Ranji) match. I just concentrated on bowling wicket to wicket as the plan was to make him play, look to hit the seam. That way it's not easy for a new batsman on this wicket," Mohit said after the first day's play at the Chaudhary Bansi Lal Cricket Stadium.

The pacer was obviously delighted at the way things panned out for him. Apart from taking the wickets of Tendulkar and Abhishek Nayar, Mohit used his willow to good effect, top-scoring with a quickfire 49 in Haryana's pathetic display of 134 all out in their first innings.

"It feels great...I am very happy. It was a great opportunity for me in my life as one rarely gets to dismiss Sachin bhai," he said.

Asked what was going on in the dressing room, he said, "We were told that 'don't look at who is batting, just focus on your strengths...what we have been doing for 8-10 years'."

He also mentioned that there was no special preparations for the match.

"Every player wants to do well, they enter a match with specific plans. We were prepared like we are normally for other big matches," said Mohit.

Asked about his batting and if India and CSK skipper Mahendra Singh Dhoni had a role, he said, "Everybody has contributed; I have worked hard on my batting. I wanted to help the team score as many runs as possible as I knew I would have to bowl also."

"But you can still call me a number 10 batsman instead of an all-rounder," he insisted when asked if he fits into that bill.

About the pitch that saw 15 wickets tumble on the opening day itself, Mohit spoke in defence of the strip.

"Nobody got out because of wicket, it was because of good balls. One can say the batsmen were out partly because of their mistakes," he said, adding that the first one hour will be "crucial" on Monday.