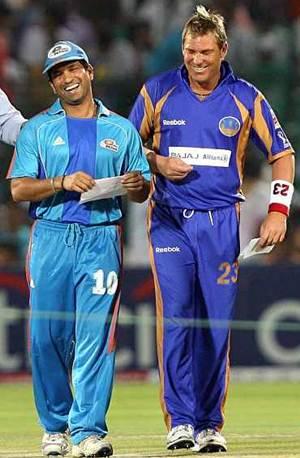 Retired batting icon Sachin Tendulkar will be seen in cricketing gear again when he leads the MCC team against a Shane Warne-led Rest of the World at Lord's in a one-day game on July 5, to mark the bicentenary celebrations of the historic club.
Tendulkar, who was made honorary member of the MCC in 2010, will lead a side that will also have Rahul Dravid.
Former India captain Sunil Gavaskar also played a competitive game after his Test retirement, in which he scored a fabulous 188 for the Rest of the World against MCC in a bicentenary Test at Lord's back in 1987.
The famous Tendulkar vs Warne rivalry will be renewed for a day as the Aussie legend leads a team that will also have former South African captain Shaun Pollock in its ranks.
This is the second time Tendulkar will appear at Lord's in such a fixture, having captained the Rest of the World side - scoring a majestic century in the process - in the Lady Diana memorial match in 1998.
"It is an honour to be asked to captain the MCC side in such a prestigious fixture, and I am delighted to accept it," said Tendulkar, in a statement issued by the MCC.
"Lord's is such a special place to play cricket and I am very much looking forward to help celebrate its bicentenary by taking part in this match. I was delighted to be presented with an MCC Honorary Life Membership in 2010, and it will be a privilege to play at the Home of Cricket once again," Tendulkar added.
Warne, on his part also sounded excited, to be playing the festival fixture.
"I always enjoy playing at Lord's and as an Honorary Life Member of MCC I'm really excited about coming back," said Warne in the statement.
"I'm sure the match will be a lot of fun and it will be a pleasure to be part of the bicentenary celebrations of the most famous cricket ground in the world," he added.
Image: Sachin Tendulkar and Shane Warne during the IPL