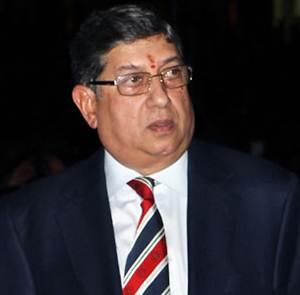 The Supreme Court on Thursday refused to hear Narayanaswami Srinivasan's plea for modification of its earlier order to enable him to function as president of the Board of Control for Cricket in India for non-IPL cricket activity.
A vacation bench of Justices B S Chauhan and A K Sikri pulled up Srinivasan for seeking its permission to look after cricket activities of the BCCI except IPL 7, saying it cannot modify the orders passed by another bench and asked him to approach the bench which had delivered the verdict.
Srinivasan had sought modification of the apex court's March 28 and May 16 interim orders by which he was restrained from functioning as BCCI president.
"You were respondent in the case. You were very much present in the hearing. They were not an ex-parte orders and they were passed in your presence," the bench said.
"We are not here to modify the orders passed by another bench," it added.
The court had earlier directed a probe against Srinivasan which will be conducted by the Justice Mudgal Committee. The committee has been directed to file a report in a sealed envelope before the apex court by the end of August.
Veteran cricketer Sunil Gavaskar was appointed interim president of the BCCI to manage the ongoing seventh season of the IPL and Shiv Lal Yadav was named interim president by the apex court to look after the other cricket-related activities of the BCCI.
Image: N Srinivasan
Photograph: BCCI