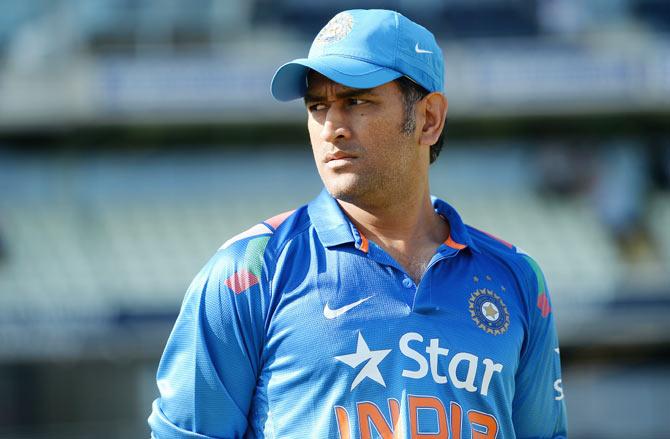 India captain Mahendra Singh Dhoni. Photograph: Gareth Copley/Getty Images
India will be looking to maintain their stranglehold over Sri Lanka in home One-Day Internationals when the teams meet in the five-match series, starting, in Cuttack, on Sunday.
Sri Lanka, who haven't won a One-Day International series in India, have won only 11 out of 43 matches played in the country. Their best result was the 1-1 draw in 1997-99 in which one match was abandoned.
India captain Mahendra Singh Dhoni loves playing against the Lankans as his record -- 2086 runs in 57 matches, at an average of 61 -- proves, while Virat Kohli (1527 runs) and Suresh Raina (1187), among the current players, have also scored more than 1000 runs against the islanders.
Veteran Kumar Sangakkara and Mahela Jayawardene, with 2626 and 2467 runs respectively against India, are the two batsmen to watch out for amongst the visitors.
The last time the teams met in a bilateral series was in 2009-10 and India won the five-match affair 3-1, with one match abandoned.
As the teams get set to duel in the make-shift ODI series, Rajneesh Gupta gives us a look at how both teams measure up in One-dayers.
Summary of results:
| | | | | | |
| --- | --- | --- | --- | --- | --- |
| | Mts | Ind | SL | NR | Tied |
| Overall | 144 | 78 | 54 | 11 | 1 |
| in India | 43 | 29 | 11 | 3 | 0 |
| in Sri Lanka | 56 | 23 | 27 | 6 | 0 |
| at neutral places | 45 | 26 | 16 | 2 | 1 |
India-Sri Lanka bilateral series in India
| | | |
| --- | --- | --- |
| Season | Mts | Result |
| 1982-83 | 3 | India 3-0 |
| 1986-87 | 5 | India 4-1 |
| 1990-91 | 3 | India 2-1 |
| 1993-94 | 3 | India 2-1 |
| 1997-98 | 3 | Drawn 1-1 # |
| 2005-06 | 7 | India 6-1 |
| 2006-07 | 4 | India 2-1 # |
| 2009-10 | 5 | India 3-1 # |
# one match was abandoned
Highest totals:
India:
| | | | | |
| --- | --- | --- | --- | --- |
| Total | Overs | Venue | Date | Result |
| 414-7 | 50 | Rajkot | 15 Dec 2009 | Won |
| 373-6 | 50 | Taunton | 26 May 1999 | Won |
| 363-5 | 50 | Colombo RPS | 03 Feb 2009 | Won |
| 350-6 | 50 | Nagpur | 25 Oct 2005 | Won |
| 332-5 | 50 | Colombo RPS | 05 Feb 2009 | Won |
| 321-3 | 36.4 | Hobart | 28 Feb 2012 | Won |
| 319-5 | 50 | Colombo RPS | 14 Sep 2009 | Won |
| 317-3 | 48.1 | Kolkata | 24 Dec 2009 | Won |
| 314-6 | 50 | Hambantota | 21 Jul 2012 | Won |
| 310-4 | 46.5 | Karachi | 03 Jul 2008 | Won |
| 307-6 | 50 | Colombo RPS | 07 Jul 1998 | Won |
| 304-3 | 50 | Mirpur | 13 Mar 2012 | Won |
| 304 | 50 | Bristol | 11 Jul 2002 | Won |
| 303-4 | 46.1 | Jaipur | 31 Oct 2005 | Won |
| 301-7 | 50 | Nagpur | 18 Dec 2009 | Lost |
| 300-7 | 50 | Colombo RPS | 17 Aug 1997 | Lost |
Sri Lanka:
| | | | | |
| --- | --- | --- | --- | --- |
| Total | Overs | Venue | Date | Result |
| 411-8 | 50 | Rajkot | 15 Dec 2009 | Lost |
| 348-1 | 50 | Kingston | 02 Jul 2013 | Won |
| 320-4 | 50 | Hobart | 28 Feb 2012 | Lost |
| 320-8 | 50 | Colombo RPS | 08 Feb 2009 | Won |
| 315-6 | 50 | Kolkata | 24 Dec 2009 | Lost |
| 308-8 | 50 | Karachi | 03 Jul 2008 | Lost |
| 307-6 | 50 | Colombo RPS | 12 Sep 2009 | Won |
| 302-4 | 50 | Colombo RPS | 17 Aug 1997 | Won |
| 302-7 | 49.1 | Nagpur | 18 Dec 2009 | Won |
| 301 | 49.3 | Colombo RPS | 07 Jul 1998 | Lost |
Lowest all-out totals:
India:
| | | | | |
| --- | --- | --- | --- | --- |
| Total | Overs | Venue | Date | Result |
| 54 | 26.3 | Sharjah | 29 Oct 2000 | Lost |
| 78 | 24.1 | Kanpur | 24 Dec 1986 | Lost |
| 103 | 33.4 | Dambulla | 22 Aug 2010 | Lost |
| 103 | 26.3 | Colombo RPS | 29 Aug 2008 | Lost |
| 136 | 40.3 | Margao | 08 Dec 1990 | Lost |
| 138 | 33.3 | Hambantota | 24 Jul 2012 | Lost |
| 146 | 46 | Dambulla | 18 Aug 2008 | Lost |
Sri Lanka:
| | | | | |
| --- | --- | --- | --- | --- |
| Total | Overs | Venue | Date | Result |
| 96 | 41 | Sharjah | 08 Apr 1984 | Lost |
| 96 | 24.4 | Port-of-Spain | 09 Jul 2013 | Lost |
| 98 | 39 | Sharjah | 09 Nov 1998 | Lost |
| 109 | 23 | Wanderers | 10 Mar 2003 | Lost |
| 122 | 35.4 | Mohali | 28 Oct 2005 | Lost |
| 141# | 36.3 | Vadodara | 15 Jan 1987 | Lost |
| 142 | 38.3 | Dambulla | 20 Aug 2008 | Lost |
# batted one man short
Individual hundreds:
India: 41 (Most: 8-SR Tendulkar,6- G Gambhir, 5- V Kohli, 4- SC Ganguly)
Sri Lanka: 33 (Most: 7- ST Jayasuriya, 6- KC Sangakkara, 4- TM Dilshan)
Highest individual innings:
India:
| | | | | | |
| --- | --- | --- | --- | --- | --- |
| Batsman | Runs | Balls | SR | Venue | Date |
| MS Dhoni | 183* | 145 | 126.20 | Jaipur | 31 Oct 2005 |
| SC Ganguly | 183 | 158 | 115.82 | Taunton | 26 May 1999 |
| G Gambhir | 150* | 137 | 109.48 | Kolkata | 24 Dec 2009 |
| G Gambhir | 150 | 147 | 102.04 | Colombo RPS | 05 Feb 2009 |
| V Sehwag | 146 | 102 | 143.13 | Rajkot | 15 Dec 2009 |
| R Dravid | 145 | 129 | 112.40 | Taunton | 26 May 1999 |
| SR Tendulkar | 138 | 133 | 103.75 | Colombo RPS | 14 Sep 2009 |
| SR Tendulkar | 137 | 137 | 100.00 | Delhi | 02 Mar 1996 |
| V Kohli | 133* | 86 | 154.65 | Hobart | 28 Feb 2012 |
| SC Ganguly | 130* | 160 | 81.25 | Nagpur | 22 Mar 1999 |
| V Kohli | 128* | 119 | 107.56 | Colombo RPS | 31 Jul 2012 |
| SR Tendulkar | 128 | 131 | 97.70 | Colombo RPS | 07 Jul 1998 |
Sri Lanka:
| | | | | | |
| --- | --- | --- | --- | --- | --- |
| Batsman | Runs | Balls | SR | Venue | Date |
| ST Jayasuriya | 189 | 161 | 117.39 | Sharjah | 29 Oct 2000 |
| WU Tharanga | 174* | 159 | 109.43 | Kingston | 02 Jul 2013 |
| TM Dilshan | 160* | 165 | 96.96 | Hobart | 28 Feb 2012 |
| TM Dilshan | 160 | 124 | 129.03 | Rajkot | 15 Dec 2009 |
| ST Jayasuriya | 151* | 120 | 125.83 | Mumbai | 17 May 1997 |
| KC Sangakkara | 138* | 147 | 93.87 | Jaipur | 31 Oct 2005 |
| KC Sangakkara | 133 | 151 | 88.07 | Hambantota | 21 Jul 2012 |
| A Ranatunga | 131* | 152 | 86.18 | Colombo RPS | 18 Jul 1997 |
| ST Jayasuriya | 130 | 132 | 98.48 | Colombo RPS | 27 Jul 2004 |
| DPMD Jayawardene | 128 | 123 | 104.06 | Sharjah | 27 Oct 2000 |
| KC Sangakkara | 128 | 155 | 82.58 | Adelaide | 19 Feb 2008 |
| ST Jayasuriya | 125 | 114 | 109.64 | Karachi | 06 Jul 2008 |
Leading run-scorers
India:
| | | | | | | | | |
| --- | --- | --- | --- | --- | --- | --- | --- | --- |
| | Mts | Runs | Hs | Avg | SR | 100 | 50 | 0 |
| SR Tendulkar | 84 | 3113 | 138 | 43.84 | 87.54 | 8 | 17 | 3 |
| MS Dhoni | 57 | 2086 | 183* | 61.35 | 90.53 | 2 | 16 | 2 |
| M Azharuddin | 53 | 1834 | 111* | 50.94 | 79.77 | 3 | 15 | 2 |
| V Sehwag | 55 | 1699 | 146 | 34.67 | 110.18 | 2 | 5 | 4 |
| G Gambhir | 37 | 1668 | 150* | 50.54 | 88.62 | 6 | 9 | 3 |
| R Dravid | 46 | 1662 | 145 | 48.88 | 75.20 | 3 | 11 | 1 |
| SC Ganguly | 44 | 1534 | 183 | 40.36 | 72.52 | 4 | 9 | 3 |
| V Kohli | 35 | 1527 | 133* | 52.65 | 85.16 | 5 | 8 | 1 |
| Yuvraj Singh | 54 | 1393 | 117 | 33.97 | 82.96 | 1 | 9 | 3 |
| SK Raina | 51 | 1187 | 106 | 34.91 | 92.15 | 1 | 8 | 4 |
Sri Lanka:
| | | | | | | | | |
| --- | --- | --- | --- | --- | --- | --- | --- | --- |
| | Mts | Runs | Hs | Avg | SR | 100 | 50 | 0 |
| ST Jayasuriya | 89 | 2899 | 189 | 36.23 | 96.98 | 7 | 14 | 7 |
| KC Sangakkara | 73 | 2626 | 138* | 40.40 | 81.85 | 6 | 17 | 2 |
| DPMD Jayawardene | 82 | 2467 | 128 | 34.74 | 77.04 | 3 | 17 | 5 |
| TM Dilshan | 65 | 2080 | 160* | 38.51 | 89.19 | 4 | 10 | 4 |
| PA de Silva | 58 | 1786 | 105 | 35.72 | 77.99 | 3 | 13 | 4 |
| MS Atapattu | 52 | 1570 | 118 | 33.40 | 69.13 | 2 | 11 | 3 |
| A Ranatunga | 56 | 1455 | 131* | 33.83 | 82.29 | 1 | 7 | 3 |
| RS Mahanama | 45 | 1152 | 98 | 33.88 | 59.78 | 0 | 11 | 3 |
Best bowling in a match:
India:
| | | | | |
| --- | --- | --- | --- | --- |
| | Figures | Overs | Venue | Date |
| A Nehra | 6-59 | 10 | Colombo RPS | 09 Aug 2005 |
| RR Singh | 5-22 | 5 | Guwahati | 22 Dec 1997 |
| J Srinath | 5-24 | 6.4 | Kanpur | 07 Nov 1993 |
| RR Singh | 5-31 | 9.3 | Taunton | 26 May 1999 |
| M Prabhakar | 5-35 | 10 | Hyderabad | 18 Feb 1994 |
| Zaheer Khan | 5-42 | 10 | Margao | 14 Feb 2007 |
| AB Agarkar | 5-44 | 9.5 | Pune | 03 Nov 2005 |
| Harbhajan Singh | 5-56 | 9.4 | Colombo RPS | 14 Sep 2009 |
| IK Pathan | 5-61 | 10 | Pallekele | 04 Aug 2012 |
Sri Lanka:
| | | | | |
| --- | --- | --- | --- | --- |
| | Figures | Overs | Venue | Date |
| M Muralitharan | 7-30 | 10 | Sharjah | 27 Oct 2000 |
| BAW Mendis | 6-13 | 8 | Karachi | 06 Jul 2008 |
| AD Mathews | 6-20 | 6 | Colombo RPS | 12 Sep 2009 |
| WPUJC Vaas | 5-14 | 9.3 | Sharjah | 29 Oct 2000 |
| NLTC Perera | 5-28 | 7.4 | Dambulla | 22 Aug 2010 |
| MF Maharoof | 5-42 | 10 | Dambulla | 22 Jun 2010 |
| T Thushara | 5-47 | 8.4 | Colombo RPS | 27 Aug 2008 |
| GF Labrooy | 5-57 | 10 | Vadodara | 15 Jan 1987 |
| UWMBCA Welegedara | 5-66 | 10 | Dhaka | 05 Jan 2010 |
Hat-tricks:
India : Kapil Dev (4-31), Kolkata, 04 Jan 1991
(victims: RS Mahanama,ST Jayasuriya & RJ Ratnayake)
Sri Lanka : MF Maharoof (5-42), Dambulla, 22 Jun 2010
(victims: RA Jadeja, Praveen Kumar & Zaheer Khan)
Leading wicket-takers:
India:
| | | | | | | | |
| --- | --- | --- | --- | --- | --- | --- | --- |
| | Mts | Wkts | Best | Avg | RPO | SR | 4W |
| Zaheer Khan | 48 | 66 | 5-42 | 32.19 | 4.98 | 38.79 | 2 |
| Harbhajan Singh | 47 | 61 | 5-56 | 26.95 | 4.19 | 38.57 | 2 |
| AB Agarkar | 25 | 49 | 5-44 | 20.61 | 4.98 | 24.79 | 2 |
| IK Pathan | 32 | 45 | 5-61 | 29.13 | 5.18 | 33.73 | 3 |
| Kapil Dev | 34 | 38 | 4-31 | 26.07 | 3.92 | 39.89 | 1 |
| I Sharma | 22 | 37 | 4-41 | 26.32 | 5.89 | 26.78 | 2 |
| A Nehra | 24 | 35 | 6-59 | 28.77 | 5.18 | 33.31 | 3 |
| J Srinath | 28 | 34 | 5-24 | 28.02 | 4.41 | 38.06 | 3 |
| A Kumble | 43 | 34 | 3-41 | 51.41 | 4.65 | 66.24 | 0 |
| M Prabhakar | 21 | 28 | 5-35 | 24.96 | 4.40 | 34.00 | 1 |
| R Ashwin | 16 | 26 | 3-32 | 25.73 | 4.52 | 34.15 | 0 |
Sri Lanka:
| | | | | | | | |
| --- | --- | --- | --- | --- | --- | --- | --- |
| | Mts | Wkts | Best | Avg | RPO | SR | 4W |
| M Muralitharan | 63 | 74 | 7-30 | 31.78 | 4.28 | 44.55 | 1 |
| WPUJC Vaas | 61 | 70 | 5-14 | 31.61 | 4.66 | 40.69 | 1 |
| ST Jayasuriya | 89 | 44 | 4-18 | 49.13 | 4.82 | 61.11 | 1 |
| KMDN Kulasekara | 35 | 40 | 4-40 | 38.42 | 5.17 | 44.58 | 2 |
| SL Malinga | 33 | 38 | 3-64 | 42.28 | 5.94 | 42.68 | 0 |
| BAW Mendis | 17 | 32 | 6-13 | 23.68 | 4.89 | 29.03 | 3 |
| CRD Fernando | 31 | 31 | 3-47 | 42.54 | 5.45 | 46.81 | 0 |
| NLTC Perera | 21 | 29 | 5-28 | 29.44 | 5.73 | 30.79 | 2 |
| MF Maharoof | 29 | 29 | 5-42 | 39.62 | 5.92 | 40.14 | 2 |
Most man of the match awards:
India:
| | |
| --- | --- |
| SR Tendulkar | 6 |
| MS Dhoni | 6 |
| M Azharuddin | 5 |
Sri Lanka:
| | |
| --- | --- |
| ST Jayasuriya | 9 |
| PA de Silva | 8 |
| A Ranatunga | 6 |