Rajasthan Cricket Association representative Mehmood Abdi feels Board Of Control For Cricket In India president N Srinivasan should not decide on any matter relating to Lalit Modi's possible return to administration through the RCA because of his "old enmity" with the banned former IPL commissioner.
Abdi was authorised by the RCA to present its case in the BCCI meet in Chennai which deliberated on Modi's possible return to cricket administration after he contested the recent RCA polls.
But the lawyer was not allowed in as the RCA, which has been threatened with a ban for letting Modi back, is not a member of the BCCI working committee.
"The entire episode reflects a very disturbing trend of intolerance and muffling the dissenting voices in BCCI. This incident should act as an eye opener for other members. This behaviour does not befit any democratic institution," Abdi said in a statement.
Abdi said BCCI president N Srinivasan should keep away from any decision making relating to RCA because of his "old enmity" with Modi.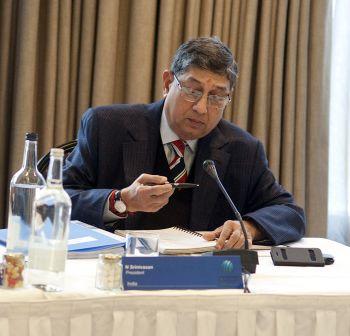 "...he cannot act fairly or rationally in matters relating to Mr Modi. The very fact that even before the declaration of the RCA election results action is being contemplated against RCA for permitting Mr Modi to contest the elections shows the extent of Mr Srinvasan's bias and enmity against Mr Modi," Abdi said.
He further added that a Special General Meeting of the BCCI should be immediately convened to take a decision on the "competence of Srinivasan" to be associated with RCA issues.
"...especially in the view that RCA authorised representative Mehmood Abdi has filed an FIR in Jaipur against him and his son-in-law Gurunath Meiyappan for match-fixing and also deposed against them before the Supreme Court appointed Justice Mukul Mudgal committee investigating into such allegations of match-fixing against them," he said.
"There is an urgent need to dissociate him from all such decision making processes," he added.
Faced with the tricky issue of how to deal with the possible re-entry of banned former IPL Commissioner Modi into Rajasthan Cricket Association, the BCCI decided to become a party in the Supreme Court case challenging the RCA polls and get its position clarified.
Image: N Srinivasan
Photograph: Charlie Crowhurst/Getty Images