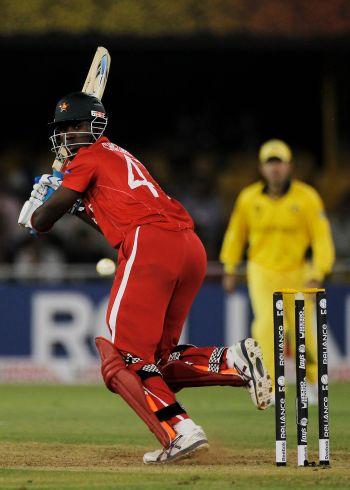 Captain Elton Chigumbura hit a fluent half-century as Zimbabwe secured a shock three-wicket win over Australia in the triangular series on Sunday.
Zimbabwe's only previous success against the world's top-ranked 50-over side came in their very first meeting in Nottingham in 1983 and since then have endured 27 defeats and one abandoned match.
After Australia elected to bat, the tourists were restricted to 209 for nine in their 50 overs, a target Zimbabwe chased down with two overs to spare.
Chigumbura came to the wicket with his side floundering on 106 for five at the halfway point of their innings, and along with number nine Prosper Utseya (30 not out), added 55 in an unbeaten eighth wicket partnership.
The Zimbabwe skipper was unbeaten on 52 from 68 balls and provided the anchor for the win.
Utseya scored the winning runs by belting a six off Mitchell Starc that prompted a field invasion by jubilant fans who had never seen a day like it at the Harare Sports Club.
Adding to Australia's misery, skipper Michael Clarke had to battle through the pain barrier to score an unbeaten 68 after he suffered a recurrence of his hamstring injury.
Clarke, returning to the side after missing Australia's first two games of the series, retired hurt in the 43rd over as he battled with his hamstring, but returned for the final two balls of the innings to ensure the tourists were not bowled out.
Wicketkeeper Brad Haddin scored 49 to help the visitors pass 200 as he put on 50 with Clarke before the latter retired hurt, and 51 with number 10 Ben Cutting (26).
The home spinners managed to both contain and pick up wickets, with Sean Williams recording excellent figures of two for 21 in his 10 overs, as Australia stuttered to their lowest ever score against Zimbabwe of 209 for nine in 50 overs.
Utseya finished with two for 45 in his 10 overs.
Zimbabwe took a patient approach to their reply but looked in trouble as they slipped to 106 for five before Chigumbura grafted to get his side home.
Nathan Lyon used the conditions well to record figures of four for 44 in 10 overs, with all of the regular bowlers economical in restricting the home batsman.
The fifth match of the series will be on Tuesday when Australia face South Africa at the same venue. South Africa lead the table with nine points, Australia second on five and Zimbabwe with four.
Scorecard
Australia
A. Finch b Nyumbu 11
P. Hughes c Nyumbu b Utseya 10
M. Clarke not out 68
G. Bailey b Williams 1
G. Maxwell b Waller 13
M. Marsh c Utseya b Tiripano 15
B. Haddin c Waller b Tiripano 49
J. Faulkner c Nyumbu b Utseya 0
M. Starc b Williams 3
B. Cutting run out 26
N. Lyon not out 8
Extras (2lb, 3w) 5
Total (9 wkts, 50 overs) 209
Fall of wickets: 1-11, 2-38, 3-39, 4-57, 5-97, 5-147, 6-147, 7-150, 8-201, 9-202.
Bowling: Chatara 8-0-56-0, Nyumbu 10-1-30-1, Utseya 10-0-45-2, Tiripano 6-1-34-2, Williams 10-2-21-2, Waller 6-0-21-1.
Zimbabwe
T. Mawoyo b Lyon 15
Sikandar Raza c sub (Smith) b Lyon 22
H. Masakadza b Starc 18
B. Taylor b Lyon 32
M. Waller c & b Maxwell 11
S. Williams c Clarke b Lyon 4
E. Chigumbura not out 52
D. Tiripano b Starc 3
P. Utseya not out 30
Extras (2b, 3lb, 18w, 1nb) 24
Total (7 wkts, 48 overs) 211
Fall of wickets: 1-42, 2-44, 3-100, 4-102, 5-106, 6-142, 7-156.
Bowling: Starc 10-3-41-2, Marsh 4-2-13-0, Cutting 6-0-18-0, Faulkner 7-0-28-0, Lyon 10-1-44-4, Finch 2-0-19-0, Maxwell 8-0-41-1, Clarke 1-0-2-0.
Image: Elton Chigumbura
Photograph: Phil Walter/Getty Images