The World Cup is in our backyard. And considering the fact that cricket is nothing sort of a religion in our country, it is safe to say that you the people will be following the event with as much eagerness as we in the media.
A lot of you must have planned to catch a few matches live at the nearest centres.
So why not share your experiences with others?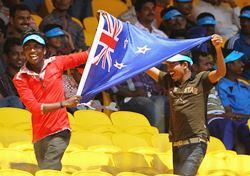 We will provide you the requisite platform.
Send in photos, videos and any interesting anecdotes you want to share with fellow-fans and we will help facilitate the process.
What are you waiting for?
Take some time out during your trips and mail us at sportsdesk@rediff.co.in.
The deal is simple: you take the initiative and we help you in carrying it forward.
Doesn't this sound great folks?