After being treated to some wonderful stroke-play by Shane Watson, which saw the opener etch his name in the record books, Mike Hussey believes that the batsman has the potential to go even further.
Watson hit a record 15 sixes in an unbeaten knock of 185 runs from just 96 balls as Australia beat Bangladesh by nine wickets in the second One-Day International on Monday.
The powerful hitting exhibited by 29-year-old, who will be in action for Indian Premier League franchise Rajasthan Royals after the series, has left his teammates contemplating whether they had ever witnessed a better display.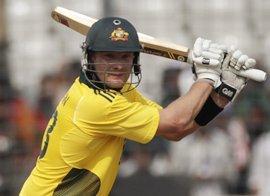 Comparing Watson's knock with that of former cricketer Adam Gilchrist's 149 -- studded with eight sixes -- which the left-hander hit against Sri Lanka in the 2007 World Cup final in Barbados, his teammate Hussey expressed that it was difficult to separate the two innings.
"It was pretty phenomenal, consistent hitting really," said Hussey.
"I haven't seen consistent hitting like that since probably Gilly in the World Cup final in 2007.
"But it was a phenomenal innings and he's been able to put together quite a few in the last little period -- the 161 not out against England (in January) was a pretty amazing innings, too, at the MCG. His consistency at being able to do it is pretty amazing," Hussey was quoted as saying by AAP.
Emphasising upon Watson's recent run of form, Hussey felt the all-rounder, who was only 15 runs short of Sachin Tendulkar's record, has the ability to go higher.
"He just keeps seeming to raise the bar all the time, so I reckon he could do it again.
"Once you've done something once, it gives you that belief that you can go on and do it again... there's no reason why he can't do it again and again," he added.
Meanwhile, Australia batsman Callum Ferguson said his side won't be easing up on Bangladesh as they seek to keep their slate clean.