He battled immense pain to guide Services to their first Ranji Trophy semi-final berth in nearly five decades but skipper Soumik Chatterjee is now harbouring an even bigger dream -- to get Sachin Tendulkar out cheaply and defeat the formidable Mumbai side.
-Mumbai seal Ranji semi-final date with Services
"I am also a big fan of Sachin, like millions in this country, but as a team, we are not under any pressure to perform in the semi-final. He is a genius but even he can get out to a good ball," the 24-year-old Chatterjee, who works as a sergeant with the Indian Air Force said.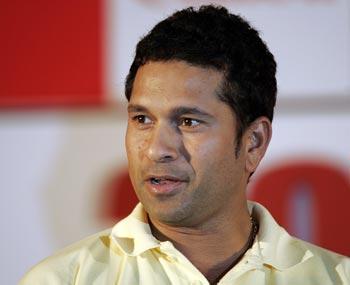 Over decades now, Services has been an also-ran in the national championship but Chatterjee wants to buck the trend.
"We are not feeling any kind of pressure. We are going to play to our potential and if we can do that, we can beat any team. We are not about Mumbai's past record or about Tendulkar's presence in the team," he said.
He has so far played 27 first-class matches but an average of shade under 30 (poor by first-class standards) doesn't tell the whole story about the man who hobbled on one leg to score an unbeaten 34 against UP that sealed a last four berth.
Ask anyone in the Services ranks, they will tell you that his innings can't be quantified by the amount of runs.
"I could not bend my knee. There was immense pain but I wanted to win this match at any cost. We are in the semi-final of Ranji trophy after 44 years and I can bear any pain for that. I have had a surgery and my stitches would be removed soon. Even if I don't play, I will be with the team," said Chatterjee, who has honed his skills under Gautam Gambhir and Unmukt Chand's coach Sanjay Bhardwaj.
"I have bumped into Guatam a few times at Sanjay sir's nets. He has given me some useful tips on batting," he concluded.