New Zealand will go with a four-seamer attack and will not risk spinner Daniel Vettori for the second and final Test against England starting at Headingley on Friday, captain Brendon McCullum said.
Doug Bracewell, who missed the first two drawn Tests of the series against England in New Zealand this year after cutting his foot on glass, and was not selected for the third Test, will come into the side.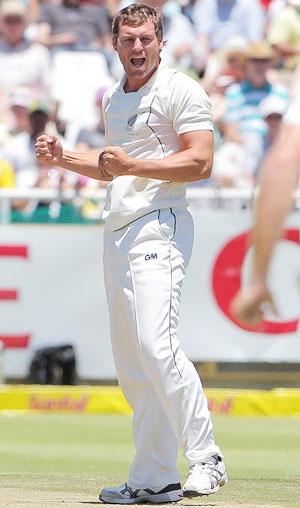 New Zealand lost the first Test at Lord's by 170 runs on Sunday after being skittled out for 68 in their second innings.
Former captain Vettori joined the Test squad in England this week after being called up as replacement for spinner Bruce Martin who has been ruled out of the rest of the tour with a calf injury.
The 34-year-old Vettori has not played a Test for 10 months, however, and has been recovering from a long-term Achilles injury.
"Dan is out of tomorrow's game unfortunately. We obviously gave it our best shot but he didn't scrub up that well today and just the confidence to go into a five-day game, with the workload he's had, is just a bridge too far," McCullum told a news conference on Thursday.
"He did not want to let the team down. It's disappointing but it does give Dougie the opportunity to make his way back after sitting on the sidelines. He's been outstanding in warm-up games on this tour as well."
CHAMPIONS TROPHY
Vettori, New Zealand's second highest wicket taker with 360 victims, will concentrate on being ready next month's Champions Trophy in England.
"He's got a big month and bit coming up. That's one of the things we looked at for this game... Would we sacrifice the coming few weeks as well?
"It wasn't the right thing for Dan and it wasn't the right thing for us," added McCullum, who will keep wicket for the touring side as he did at Lord's after BJ Watling suffered the knee injury which has also ruled him out of the Headingley game.
It was the first time McCullum had kept wicket in a Test for nearly three years.
With Martin out of the tour, McCullum can also call on part-time off-spinner Kane Williamson who captured two wickets at Lord's, including Jonathan Trott.
McCullum said it was a "gamble" to select an all-seamer attack but one the Blackcaps had to take.
"While it slightly adjusts our balance, we're hoping that the overhead conditions over the coming few days... that the four seamers is actually a positive option for us," he said.
"From the games I have played here seamers have prospered but the wicket looks a touch dry underneath the grass covering. It's a gamble either way to be honest but it's one, when you are one-nil down you have to take."
McCullum and his troops have spent the time since Lord's analysing what went wrong on the fourth day when they capitulated against Stuart Broad.
The first three days had been evenly conTested on a low-scoring and slow wicket before Broad demolished the tourists with a seven-wicket haul.
"It's been a delicate balance between not sweeping it under the carpet and acknowledging what went on," McCullum said.
"Everyone looked at their own mode of dismissal. Some guys know that their footwork was lacking...some guys know that their hands were probably a bit far from their bodies at times.
"Was it the pressure of the situation or a technical deficiency? I don't think it was a technical deficiency. I do feel we are making some significant gains as a batting group and the other day was a blemish for us, no doubt about that."