New Zealanders will be proud of the fight their cricket team showed to stage a remarkable turnaround and claim their first Test victory on Australian soil in 26 years, Black Caps skipper Ross Taylor said on Monday.
New Zealand lost the first Test in the two-match series by nine wickets in Brisbane last Sunday and started the fourth day of the second with Australia 169 runs from victory with 10 second-innings wickets in hand.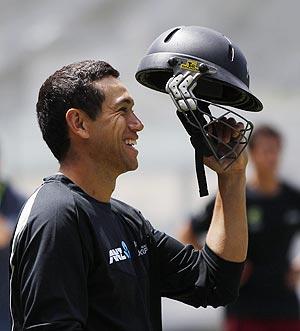 Fired by a brilliant spell of bowling from Doug Bracewell, who took six wickets for 40 runs, the tourists ripped through the Australian batsmen to secure a tense victory by seven runs.
"The only thing I try and instill in the players is fight and pride and playing for your country," Taylor, who was an infant when New Zealand last won in Australia, told reporters at the Bellerive Oval.
"We didn't show much fight in Brisbane but we showed a lot of guts and determination out there today. That was for the New Zealand public, an early Christmas present if you like.
"The New Zealand public knows that the cricket team is alaways the underdog when it plays Australia but they don't like it when they don't show much fight," he added. "But we showed a lot of ticker today."
Taylor had the worst possible start to the Test, losing all rounder Daniel Vettori to a hamstring strain aggravated in the warm-up, then the important toss, and finally three wickets inside the first 45 minutes, including his own.
The 27-year-old, who scored 56 in the second innings, said he always had faith his team had a chance on the greentop wicket that bamboozled batsmen for all four days of the Test.
"I didn't bat very well but I never felt in on that wicket so I knew that it wasn't going to be easy to bat on that wicket, it was still nipping around on day four," he said.
"We believed in ourselves that we could win this match, we knew we had to fight and take our catches and bowl in the right areas and we'll get our reward and that's what happened."
Taylor refused to take the credit for handing the ball to Bracewell, whose uncle John also took six wickets in one innings for New Zealand against Australia in 1986.
"As captain, you've got to go on hunches, I thought Dougie would bowl well, I didn't think he'd bowl that well," he said.
"Just stoked for Dougie, he didn't bowl as well as he would have liked in Brisbane, although it didn't help that his captain dropped a catch.
"He bowled outstandingly well for a young guy, 21, to come in for only his third Test match against Ponting, Clarke, Hussey, that's something to tell your grandkids about."
New Zealand, who had not beaten Australia anywhere in a Test since 1993, return home to play one Test against Zimbabwe in late January and three against South Africa in March.