New Zealand paceman Doug Bracewell took six wickets in a devastating spell around lunch on the fourth day of the second Test on Monday to fire his country to a dramatic first victory over Australia since 1993.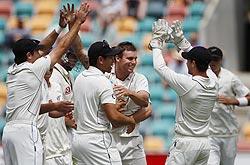 Australia, requiring 241 for victory in the second Test, had looked to be grinding their way to the win on the back of David Warner's maiden Test century until Bracewell (6-40) helped send them tumbling from 159 for two to 233 all out.
The seven-run victory was the first on Australian soil for the Black Caps since 1985 and came despite opener Warner's unbeaten 123, which earned him the man of the match award in his second Test.
The victory levelled the series at 1-1 after Australia won the first Test in Brisbane by nine wickets.
Scoreboard
New Zealand first innings: 150 (D Brownlie 56; J Pattinson 5-51)
Second innings: 226 (R. Taylor 56)
Australia first innings: 136
Australia second innings: (overnight 72-0)
P Hughes c Guptill b Martin 20
D Warner not out 123
U Khawaja c Taylor b Boult 23
R Ponting c Southee b Bracewell 16
M Clarke c Taylor b Bracewell 0
M Hussey lbw b Bracewell 0
B Haddin c Taylor b Southee 15
P Siddle c Ryder b Southee 2
J Pattinson c Guptill b Bracewell 4
M Starc b Bracewell 0
N Lyon b Bracewell 9
Extras: (lb-18, b-3): 21
Total: (63.4 overs) 233 all out
Fall of wicket: 1-72, 2-122, 3-159, 4-159, 5-159, 6-192, 7-194, 8-199, 9-199
Bowling: Martin 16-4-44-1, Boult 12-1-51-1, Southee 19-3-77-2, Bracewell 16.4-4-40-6.