West Indies cruised to a five-wicket win over England in the second Twenty20 at the Kensington Oval in Barbados on Tuesday to take an unassailable 2-0 lead in the three-match series.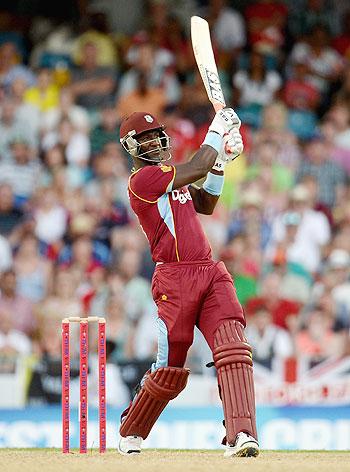 The hosts overhauled England's total of 152 for seven with five wickets and seven balls to spare.
Jos Buttler provided the backbone of the England innings, blasting 67 off 43 balls highlighted by five fours and three sixes.
He was well supported by opener Alex Hales, who hit 40 off 36 deliveries, but only one other batsman made double figures.
Left-arm seamer Krishmar Santokie was the pick of the West Indian bowlers, capturing four for 21 from his four overs to win the man of the match award, while Dwayne Bravo chipped in with two vital scalps.
"Feels good. It's a while since we won a series," captain Darren Sammy said at the presentation ceremony after ending the match in spectacular fashion with an unbeaten 30 off nine balls containing three sixes.
"This is preparation for the T20 World Cup. We have one more game and we want to give the fans something to celebrate -- it's good that all the guys are firing."
Opener Chris Gayle, more watchful than normal, top scored for the West Indies with 36 off 30 balls. He batted patiently but punished any loose deliveries, slamming four sixes.
He shared a first-wicket partnership of 48 with Dwayne Smith, who raced to 30 off 16 balls, that put the home team on the road to victory.
"I think we were about 15, 20 runs short," said England captain Eoin Morgan.
"Starting at 26 for three wasn't ideal and we had to work on a balance between trying to score runs and not lose wickets.
"I thought (Buttler and Hales) kept us in the game with a great effort. They showed a lot of fight and towards the end we were always in the game but we had to continue to take wickets."
The teams meet again in Barbados on Thursday before heading to Bangladesh for this month's Twenty20 World Cup.
West Indies are the defending champions after winning in 2012. England won the previous edition in 2010.
Scoreboard
England
M. Lumb lbw b Santokie 4
A. Hales c Simmons b D.J. Bravo 40
M. Ali lbw b Santokie 5
E. Morgan c Simmons b Badree 3
J. Buttler c Sammy b Santokie 67
R. Bopara c D.J. Bravo b Santokie 14
L. Wright not out 7
T. Bresnan c Ramdin b D.J. Bravo 7
Extras (b-1,lb-3, w-1) 5
Total (7 wickets, 20 overs) 152
Fall of wickets: 1-13, 2-21, 3-26, 4-102, 5-137, 6-143, 7-152.
Bowling: Badree 4-0-16-1, Santokie 4-0-21-4, Samuels 2-0-17-0, Rampaul 3-0-30-0, Sammy 1-0-17-0, D.J. Bravo 4-0-34-2, Russell 2-0-13-0.
West Indies
D. Smith c Bresnan b Dernbach 30
C. Gayle b Bopara 36
M. Samuels c Hales b Bresnan 28
L. Simmons c wkpr Buttler b Wright 19
A. Russell c Hales b Bresnan 2
D. Sammy not out 30
D.J. Bravo not out 8
Extras (w-2) 2
Total (5 wickets, 18.5 overs) 155
Fall of wickets: 1-48, 2-75, 3-111, 4-116, 5-116.
Bowling: Bresnan 3.5-0-51-2, Dernbach 3-0-30-1, Tredwell 4-0-27-0, Bopara 4-0-10-1, Parry 2-0-17-0, Wright 2-0-20-1.
Image: Darren Sammy of the West Indies hits six runs during the 2nd T20 International match against England at Kensington Oval in Bridgetown, Barbados on Tuesday
Photograph: Gareth Copley/Getty Images